Our Growing Store in Cranberry
HTG Supply in Cranberry Township, PA has all everything you need for your grow room including; EZ Clone systems and plant propagation supplies, seed starting equipment, inline fans and carbon filter systems, grow room ventilation components, atmosphere and lighting controllers, CO2 generators – monitors – tanks, & supplies, nutrients and fertilizers, reflective Mylar film and panda film liners, trimmers and pruners, pesticides and organic pest control, grow bags and grow pots, garden accessories and tools, and perhaps best of all – a knowledgeable and friendly sales crew that is dedicated to helping you succeed with your grow!
Wherever you are in the Pittsburgh, PA area; from Erie to Morgantown, from Wheeling to Youngstown & Akron, Grove City, Slippery Rock, Monroeville, Moon, or Greensburg, stop by our location in Cranberry Township for the great prices and service that you have grown accustomed to as an HTG Supply grower!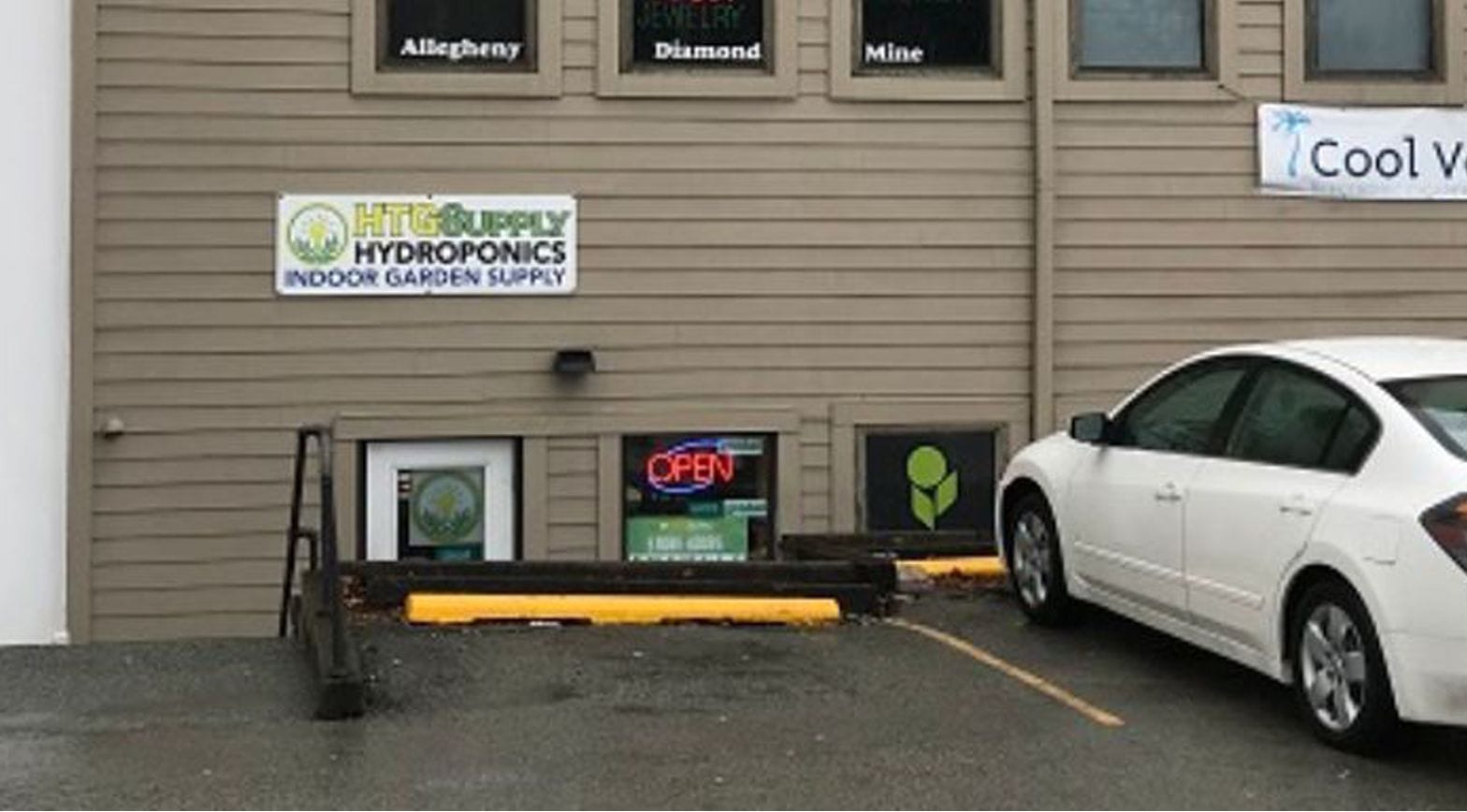 Hydroponics, Grow Lights and Grow Tents
Nutrients, Fertilizers, & More
HTG Supply Cranberry Twp.Distributor
Hydroponic Systems, Cutting Edge Grow Lights, and Wide Range of Grow Tent Sizes
Hydroponics – We offer many types of hydroponic systems for beginners and professionals alike including DWC units, flood & drain systems, aeroponic systems, drip systems, and more. From the large scale Big Boy ebb & flow system to the stand-alone Bubble Boy deep water culture (DWC) bubble buckets, we have a system that will fit your needs. Interested in building your own hydroponic system? We have the DIY hydroponic supplies that you need for your design including reservoirs, buckets, fittings, valves, tubing, submersible pumps, and air pumps all in one place. Save more on all of the other hydro supplies you need at HTG Supply as well such as coco coir – hydroton clay pebbles – or rockwool grow mediums, pH meters, TDS meters, and more.
Grow Lights – Check out our huge selection of cutting edge grow lights. Our inventory is constantly updated with the latest and best LED grow lights for gardens big and small. We have the best variety of HID grow light systems including HPS grow lights, MH Grow lights, and popular CMH grow lights. Whether you're looking for a small Ceramic Metal Halide system or a 1000w double ended HPS grow light, we have you covered. Choose from our great selection of reflectors and air-cooled hoods, as well as grow light bulbs from AgroMax, Eye Hortilux, SunMaster, and many others. We also carry high-performance T5 fluorescent grow lights including supplemental UV T5 lights.
Grow Tents – Looking for grow tents in the Pittsburgh area? You've come to the right place. We have tents for any size grow, from the cabinet sized Mother Keeper grow tent to the giant 10×10 Super XXL. How about a turn-key grow room solution? Save more and grow more with one of our complete grow tent kits! Whether you're interested in LED grow lights or HPS grow lights, soil or hydroponic growing, we have a kit for it that comes with all of the parts you need to get growing fast including nutrients, fans, and everything else. Any kit can be fully customized to best fit your needs and your budget – choose from tons of upgrade options and make your grow tent kit your own!
Hundreds of Hydroponic Nutrient Brands
Our shelves are stocked with hundreds of hydroponic nutrients from all of the major brands like Advanced Nutrients, CANNA, Heavy 16, General Hydroponics, Botanicare and many others. Get the nutrients you need for any stage of growth, from seed flower, as well all of the supplements and remedies from the brands you know and trust. HTG Supply is Pittsburgh's place to go for organic gardening as well. We have the area's best selection of organic nutrients and compost teas as well as premium soils such as FoxFarm Ocean Forest and Happy Frog, ProMix BX, Roots Organics, and more. Stop in on Free Tea Tuesdays for a free jug of our famous Stump Tea compost tea, just bring the jug!
Check out HTG Supply Cranberry Twp. on Facebook for grow demos, event news & useful grow tips. Like our page & join the HTG grower community!
HTG Supply Cranberry Twp. is a proud distributor of
Advanced Nutrients, Age Old Organics, AgroMax, Aptus Plant Tech, Atami, Aurora Innovations, Bluelab, Botanicare, Can Filters, CANNA, CAP, Clonex, Digital Greenhouse, Doktor Doom, Earth Juice, Einstein, Emerald Harvest, Emerald Triangle Exhale, Eye Hortilux, EZ Clone, Fiskars, FoxFarm, GE, General Hydroponics, General Organics, Grodan, GrowBright, GROZONE, Hanna Instruments, Heavy 16, High Yield, Lighting, Hormex, House & Garden, HTGSupply, Hydrofarm, Hygrozyme, Light Rail, Olivia's, Ona, Organic Rescue Mist, Osram, Phat Sacks, Physan 20, Pro-Mix, PURE, Rhizoflora, Rock Nutrients, Roots Organics, Serenade, Solis Tek, SunMaster, Superthrive, Technaflora, The Guano Company, Uvonair, and many other fine brands!