Our Growing Store in Prospect Park
From budget friendly grow lights for hobbyists to the latest technology in professional LED grow lights, from advanced hydroponic systems to organic soil growing supplies, you can get it at HTG Supply Prospect Park. Grow tents, complete grow tent kits, DIY hydroponics supplies, HID grow light ballasts & bulbs, LED grow light systems, carbon filter odor control systems, hydroponic nutrients, organic fertilizers, and trimmers – we have it all. With thousands of specialty indoor gardening products by top manufacturers to choose from and an experienced crew that's dedicated to helping you get the most out of your grow, you'll get what you need and save more at HTG Supply Prospect Park, just outside the Philly city limits!
Browse our shelves before you come in with a Google Inside virtual tour!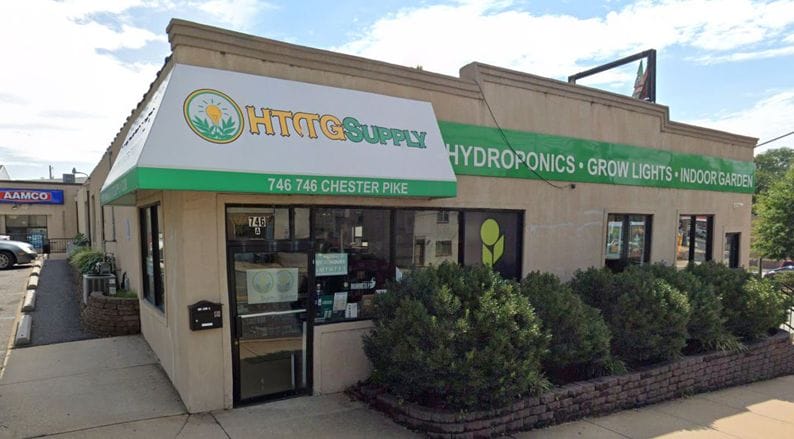 HTG Supply Prospect Park Distributor
Wide Range of Growing Equipment
HTG Supply in Prospect Park, PA is your destination if you're looking for a hydroponics store near Reading, PA – Lancaster, PA – Allentown, PA – Wilmington, DE – Trenton, NJ – or anywhere else around Eastern Pennsylvania. We have the latest in super-efficient LED grow light systems for any indoor growing application or garden size, as well as a huge stock of other grow lights including; CMH & LEC grow lights, double ended HPS, T5 grow lights, induction grow lights, and conventional metal halide & high pressure sodium grow lights from 150 watts to 1000 watts. At HTG Supply you can save big with a complete grow light kit or take advantage of the Philly area's best deals on any of our hundreds of grow light products like grow light ballasts, HPS bulbs, MH bulbs, T5 bulbs, reflectors & air-cooled hoods, light hangers & movers, timers, controllers, and more. Need a hydroponics system or interested in building your own? HTG Supply is the grow shop that will save you more on the gear you need for your project. We offer hydroponics systems of all types and sizes, from table-top systems and single-plant deep water culture (DWC) buckets to large commercial ebb & flow and recirculating hydroponic setups, as well as a comprehensive line of hydroponics supplies such as pH meters and testing equipment, hydroponic nutrients from all of the top brands, DIY hydroponics parts (tubing, fittings, reservoirs, hydroponic trays, pumps, chillers, etc.), RO machines & water purification equipment, and everything in between. HTG Supply is also OMRI friendly with an extensive selection of organic nutrients, high-quality organic soil, premium planting containers like smart pots and air pots, organic pest controls and other organic gardening supplies for those looking to grow in all-natural style. If you're looking for a complete grow room setup to get started quick or upgrade your old closet grow, check out our sweet deals on complete grow tent packages that come with everything you need. Customize them any way you like!
Check out HTG Supply Prospect Park on Facebook for grow demos, event news & useful grow tips. Like our page & join the HTG grower community!
HTG Supply Is More Than Just a Hydro Shop
HTG Supply is more than just a hydro shop – we are an indoor gardening superstore with the inventory and know-how to assist any grower. Whether you're looking for grow lights, grow light bulbs, hydroponics, nutrients & fertilizers, organic gardening supplies, grow bags, air pots, grow tents, complete grow tent packages, grow room ventilation / inline fans & carbon air filters, CO2 generators / CO2 tanks & supplies, high-tech controllers & monitors, reflective Mylar rolls / grow room liners, dry nets, trimmers, or anything else for indoor growing, you simply won't find more choices or better deals anywhere else. Our selection of top-quality indoor garden supplies and hydroponics equipment is built on products that provide efficiency, performance, and value, and our staff has real growing experience and a mission to help you succeed. No matter what type of indoor gardening you do, you can get the equipment & supplies that will help you maximize your harvest and the service you deserve at HTG Supply Prospect Park. Check out our video below for more on our great products!
HTG Supply Prospect Park is a proud distributor of
Advanced Nutrients, Age Old Organics, AgroMax, Aptus Plant Tech, Atami, Aurora Innovations, Azatrol, BioAg, Bluelab, Blueprint, Botanicare, Can Fans / Can Filters, CANNA Nutrients, CAP, Clonex, CX Nutrients, Digital Greenhouse, Doktor Doom, Dr. Willards, Dyna Gro, Earth Juice, Ebb & Grow, Einstein, Elemental, Emerald Harvest, Emerald Triangle Exhale, Espoma, Eye Hortilux, EZ Clone, Fiskars, Flying Skull, FoxFarm Nutrients / Ocean Forest / Happy Frog, GE, General Hydroponics (GH), General Organics, Grodan Rockwool, GrowBright, GROZONE, Hanna Instruments, Heavy 16, High Yield, Lighting, Hormex, House & Garden, HTGSupply, Humboldt County's Own, Humboldt's Secret, Hydrodynamics International (HDI), Hydrofarm, Hydroton, Hygrozyme, Light Rail, Microbe Life, NPK, Olivia's, Ona Gel, Organic Rescue Mist, Organocide, Osram, Phat Sacks, Physan 20, Pro-Mix BX, PURE, Rhizoflora, Rock Nutrients, Roots Organics, Safer, Serenade, Solis Tek, Stump Tea, SunMaster, Superthrive, Technaflora, The Guano Company, Uvonair, and many other fine manufacturers.