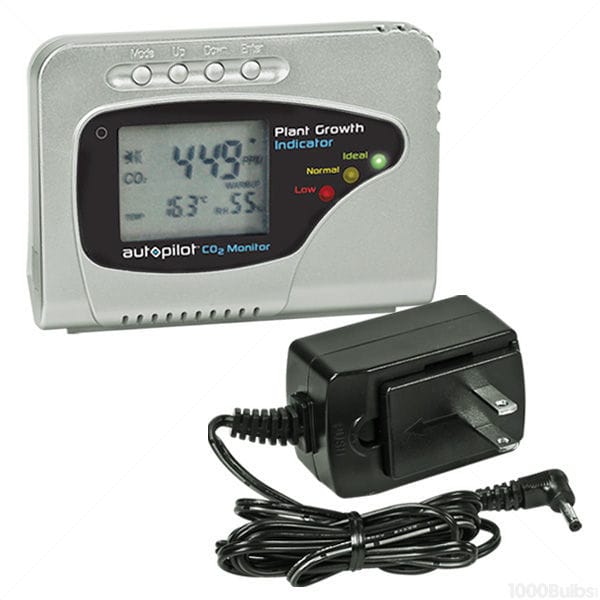 Autopilot Desktop CO2 Monitor & Logger
Accuracy, innovative features, and unbeatable affordability in one small, user-friendly CO2 monitor. To deliver its measurements, the Autopilot APCEM2 Desktop CO2 Monitor features a clear display system that boasts a digital memory chart of recorded CO2, relative humidity, and temperature readings over an adjustable 24-hour or 7-day period. With the industry-new feature Trend Chart, the device is able to trace the above quantities through past minutes, hours, or up to 7 days.
Only 1 left in stock
Overview
The Autopilot APCEM2 Desktop CO2 Monitor is patent pending, featuring a hook-and-loop fastener along the back that can securely affix a rectangular external battery pack. By maximizing mobility, the device can be easily moved to any room—living room, kitchen, office—to monitor IAQ virtually anywhere. The Autopilot APCEM2 Desktop CO2 Monitor can be powered by almost any standard USB port that provides power, such as a laptop, a wall adapter, or an external mobile battery pack (PowerBank). Battery pack not included.
Features:
• CO2/RH/Temperature monitor on a clear display
• Trend Chart: shows variable Min/Hr/Day/Wk for readings of CO2/RH/Temperature
• 2-Channel Low Drift NDIR (non-dispersive infrared) Gas Sensor
• Audible alarm for low/high CO2 levels
• Alarm function for environmental extremes
• 3 Multicolored LEDs for Easy Reading
• Built-in directory of common plant types of their general CO2 requirements; two slots for custom plant inputs
• Replenish CO2 Reminder: calculates time frame based on usage from past 5 days
• "Green" Power Supply that is compatible with a standard smartphone charger
• View charts as weekly, daily, hourly, or per minute
• Additional settings measure air quality for breathing
• PPM settings for tomatoes, cucumbers, and more
• Multiple options for hanging, mounting or desktop display
• Comes with two Micro USB Cables for power
• USB AC adapter
Reviews
Only logged in customers who have purchased this product may leave a review.
Related Recommended Products