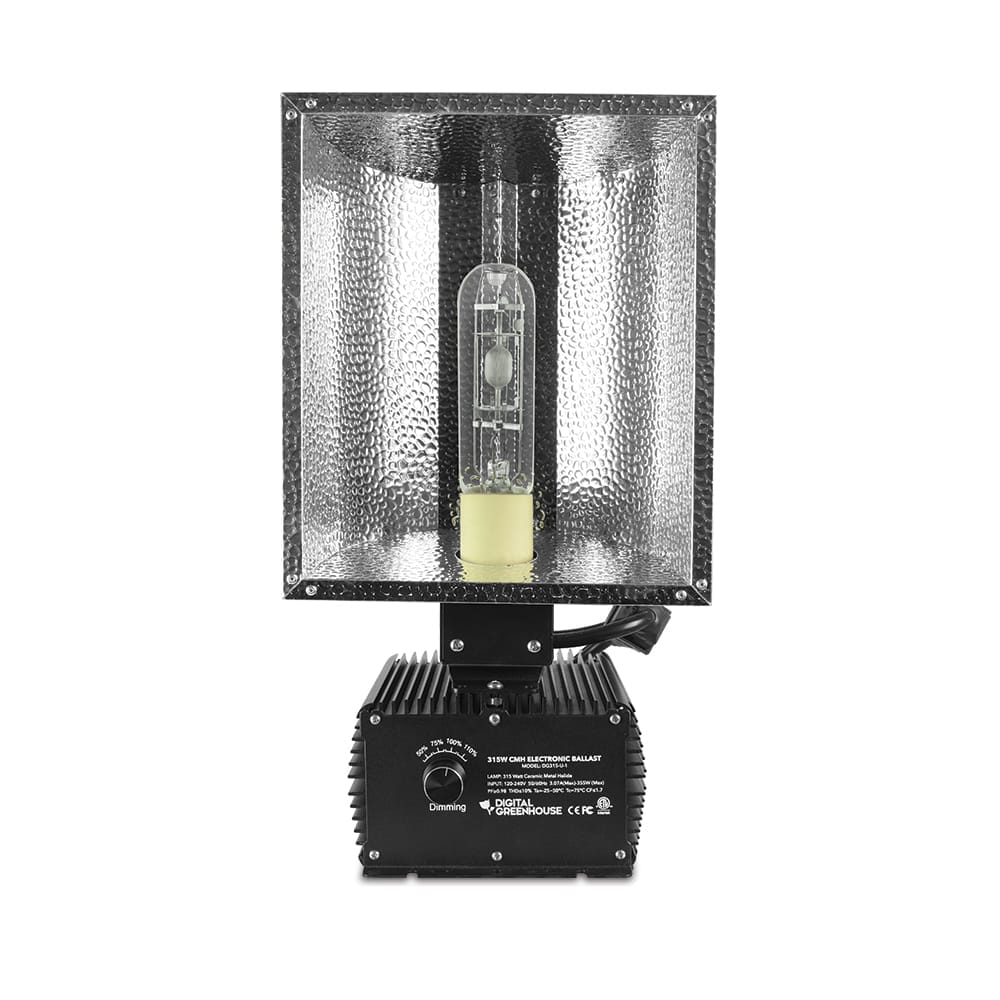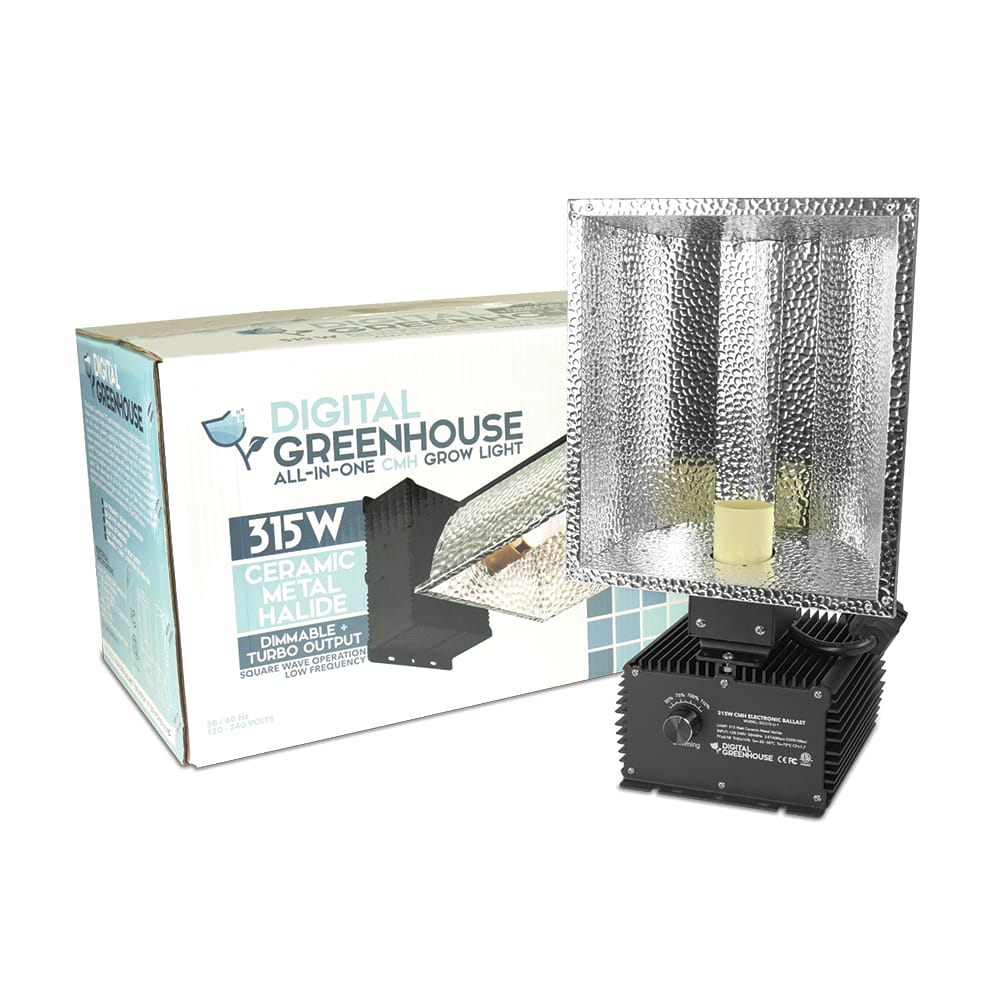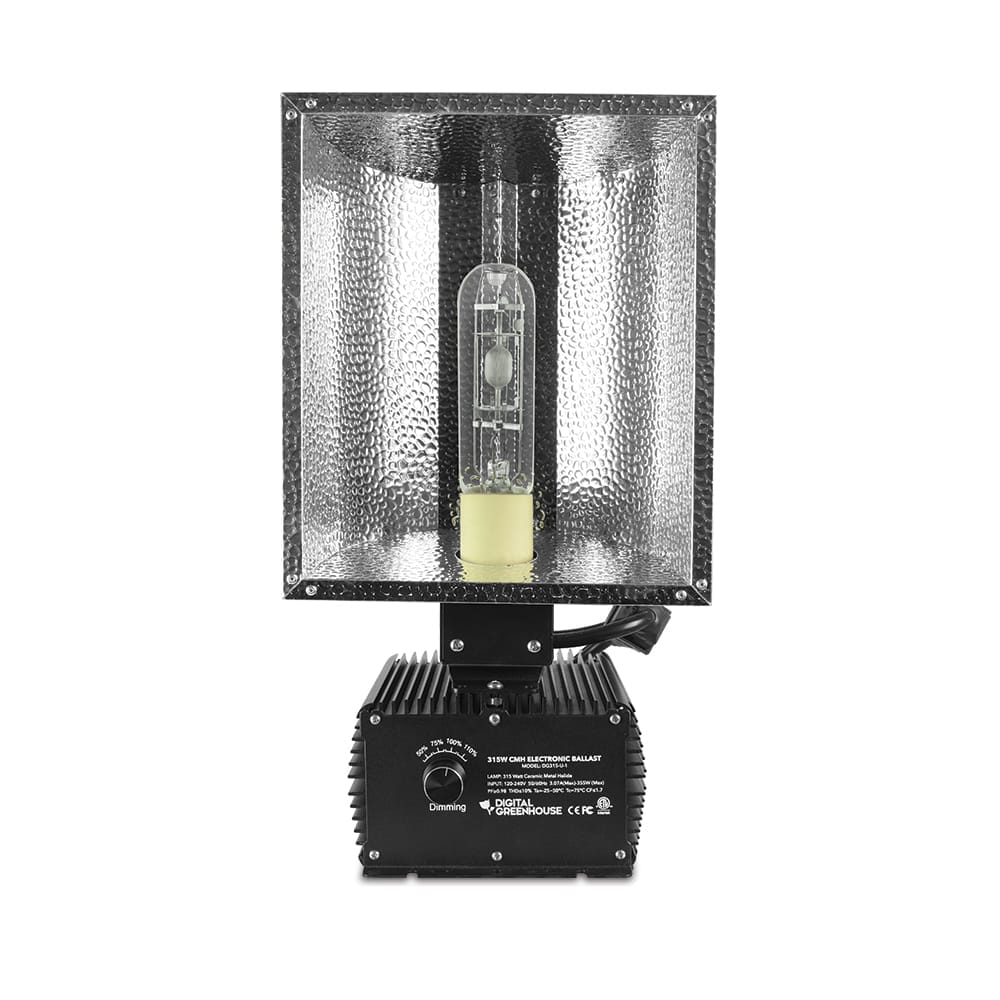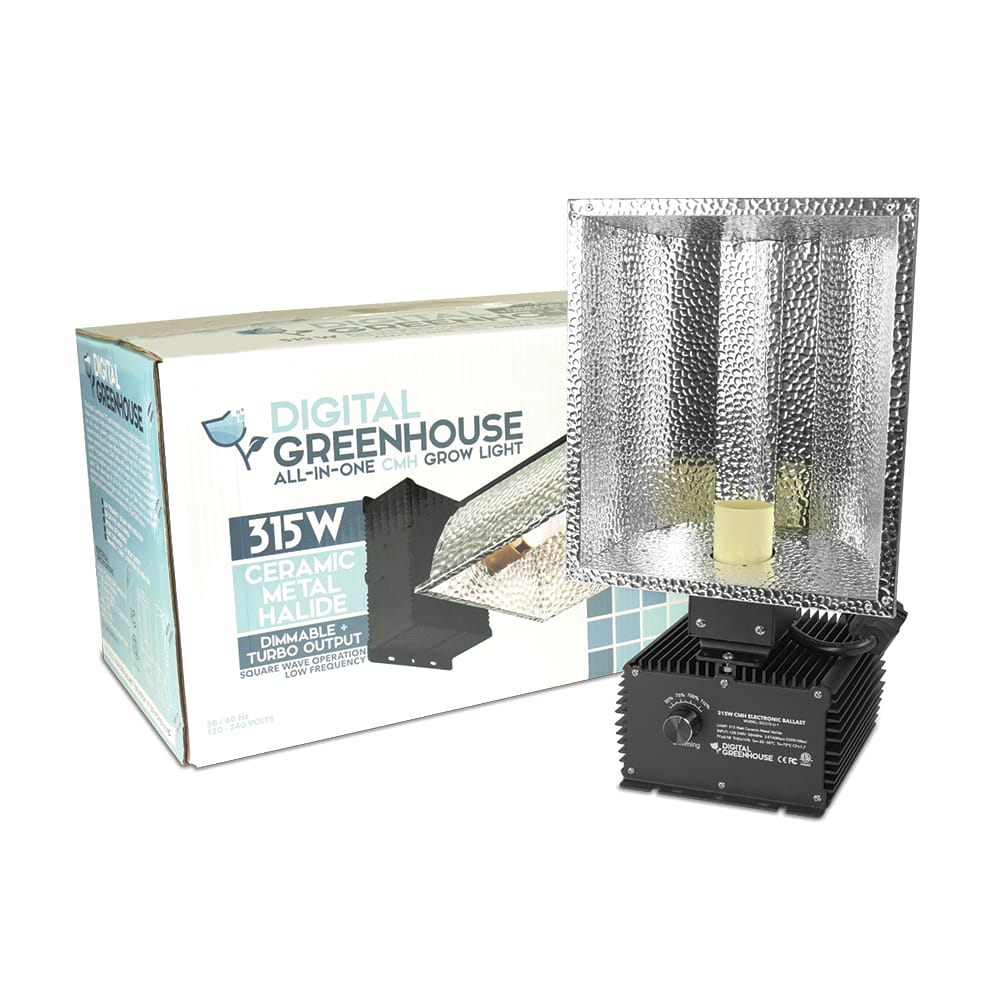 Digital Greenhouse 315w CMH Dimmable – 277v
The 277v Commercial Digital Greenhouse 315 watt ceramic metal halide all in one dimmable fixture is a compact and lightweight unit that delivers the latest in ceramic grow light technology at a great price. The all-in-one CMH fixture style features a square-wave digital CMH ballast with a hood or reflector attached directly to the ballast housing. Also fitted with a PGZ18 base, the Digital Greenhouse 315 watt ceramic metal halide all in one fixture is fully compatible with popular CMH bulbs such as the Philips MasterColor or the Sunmaster Full Nova WX.
Capable of being hung or surface-mounted, this fixture is an excellent option for commercial horticultural applications, from small greenhouses to commercial growing operations.
Output can be reduced with 75% and 50% settings, or it can be raised to 110% for increased light intensity. A simple dimming selector switch allows adjustments to be made quickly as needed
Overview
277v Commercial Digital Greenhouse 315w CMH Dimmable Fixture
The 277v Commercial Digital Greenhouse 315 watt ceramic metal halide dimmable fixture provides a high-performing and economical CMH lighting solution for commercial horticultural applications. Featuring advanced square-wave ballast technology and a super-reflective 4-sided hood, the DG 315 watt CMH fixture operates specialty CMH bulbs with peak efficiency for maximum growth. Plug and play design that can be hung or surface mounted allows for quick setup, even in large commercial spaces. Take advantage of all of the benefits of CMH lighting such as better efficiency and improved spectrum, and boost your harvests with the Digital Greenhouse all-in-one 315w CMH fixture!
DIMMABLE CONTROL – The Digital Greenhouse 315w CMH is one of the first grow lights of its kind to offer the flexibility of dimming control. Dynamic lighting better serves dynamic plant growth, not only improving the growing environment but also reducing the impact on the environment as a whole. With 50%, 75%, 100%, and 110% settings, the DG 315 watt dimmable system provides the ability to properly adapt to growing conditions giving it a distinct advantage vs comparable lights in terms of efficiency and flexibility.
Fixture Specs & Features
Measures (max): 17.875″L x 9.875″W x 10″H
Power draw: 355 watts / 1.33 amps @ 277v (max)
Dimmable Settings: 50%, 75%, 100%, 110%
Operates on 277v power
Includes 10′ power cord with NEMA L7-15P twist-lock plug
Socket Type: PGZ18 (bi-pin)
For use with 315w CMH bulbs only
ETL listed
2-year fixture warranty
FAQ's
Q: CMH, CDM, LEC Grow Lights – What's the difference?
A: Actually, these are all just different terms used for ceramic metal halide grow lights. Light-emitting-ceramic (LEC) is simply a manufacturer-specific line of ceramic metal halide (CMH) grow lights, while CMH is the general term for this type of light. Ceramic discharge metal halide, or CDM, is simply an extended term for CMH. To learn more about CMH including different types, benefits, and more, check out – The Grower's Guide to CMH!
Related Recommended Products