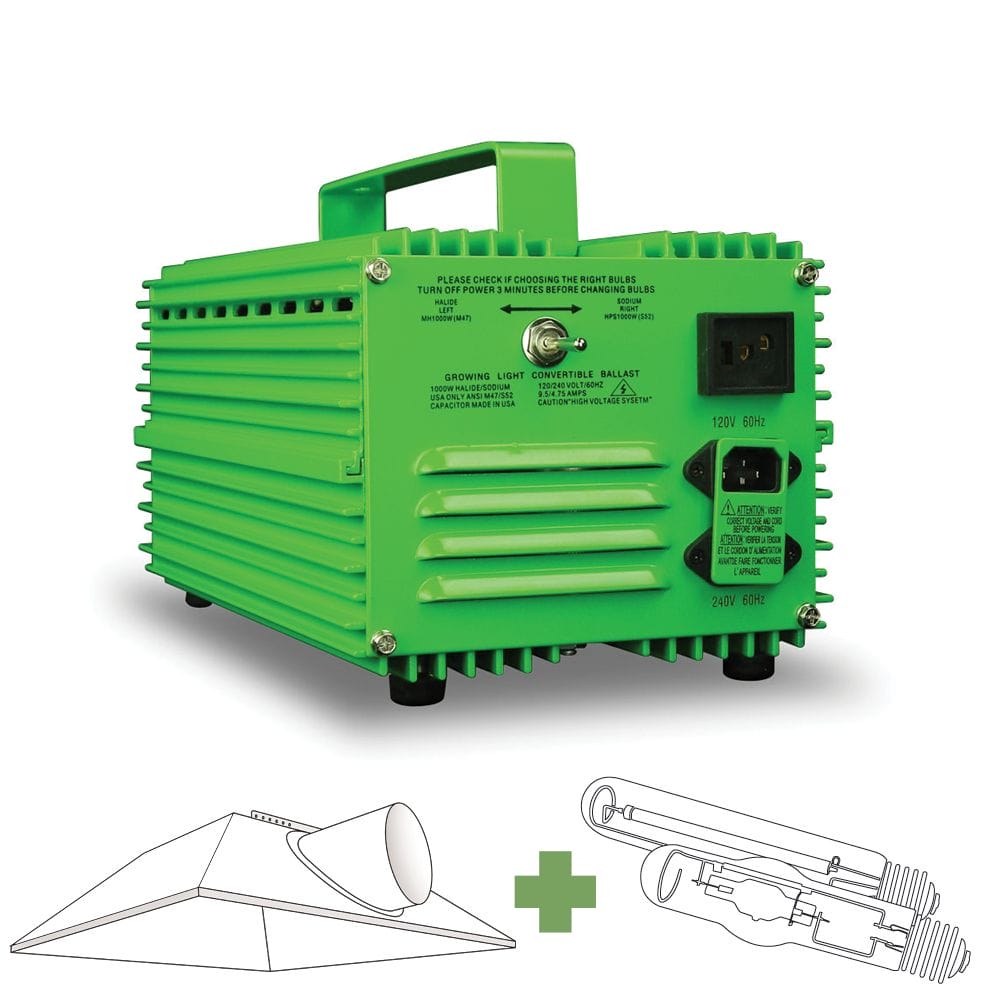 GrowBright Professional 1000 Watt Grow Light
The GrowBright Professional Grow Light System has a UL listed ballast! Not many out there can say the same. Made for years of use the GrowBright Professional is build with high quality parts in a top notch enclosure making for a quiet reliable system.
Overview
System includes:
1,000-watt Switchable GrowBright Professional Remote Ballast
MaxWing Reflector
1,000-watt HTGSupply High-Pressure Sodium High Output Horticultural Bulb
15' Ballast to Reflector Cord Set
About the System:This 1,000 watt system is recommended for gardens anywhere between 5' x 5' to 10' x 10' (floor space).
This is simply the best High Intensity Discharge (H.I.D.) Grow Light System on the market today. Top-quality construction and components combined with outstanding value make this the perfect choice for your grow light needs. U.L. Listed GrowBright Professional Series 1,000w Grow Light.
REMOTE BALLAST:
Remotely locate your ballast housing outside your grow area to reduce heat!
Professionally built, U.L. Listed, heavy-duty 1,000-watt High Pressure Sodium Aluminum Ballast enclosure
Top-quality 1,000 watt HPS ballast – Multi-Volt housing
15' Ballast to Reflector Cord
10' grounded power cord for use with standard household outlets
TWO YEAR WARRANTY on Ballast and Components
MaxWing Reflector:
Measures: 19″ long x 16 1/2″ wide x 6″ deep
The MaxWing Reflector is large and in charge! This 4-sided reflector is made from highly reflective (95%+ reflective) polished aluminum this reflector will not rust, corrode, chip or discolor. The MaxWing Reflector is built to last a lifetime. It combines the high reflectivity of the mirror-like finish of the polished aluminum with the excellent light dispersal qualities of a dimpled or hammer-toned surface. The horizontal configuration delivers the maximum amount of light over the entire garden. Hammer-toned surface eliminates "hotspots" and ensures lush, even plant growth.
HTG Supply 1,000w HPS High Output Horticultural Bulb:
The HTGSupply 1000 watt High-Pressure Sodium lamp emits an amazing 150,000 lumens.
Features:
150,000 lumens
Designed specifically for plant growth
Brighter than standard HPS lamps
Increased Violet and Blue spectrum to enhance natural plant growth
1 year warranty
PLUG / CORD SET:
The detachable Plug Cord Set features a heavy duty 16 gauge, 15' cord that attaches to the reflector. Cord set fits major brand reflectors including High Yield Lighting brand reflectors.
Reviews
Only logged in customers who have purchased this product may leave a review.
Related Recommended Products