GrowBright SS-1000 LED Grow Light System
High-Efficiency Full-Spectrum SMD LED Grow Light Technology
Grow your own amazing plants indoors with the GrowBright SS-1000 Full-Spectrum LED grow light. GrowBright SS series fixtures are equipped with the latest in plant-growing LED technology and components manufactured by the industry's top brands. Simplify your garden's lighting needs with the efficiency, reliability, flexibility, and incredible value of the GrowBright SS-1000 LED. This fixture comes ready for plug & play use and includes a pair of FREE rope ratchet hangers!
View Product Data & Instructions Sheet
Specs & Features:
Measures – 11.8" Long x 10.5" Wide x 2.3" High

Includes – fixture with built-in dimming, wire hanging harness, pair of rope ratchet hangers

Chip Type – Samsung LM301B SMD

Chip Array – 3000K, 5000K, 660nm, 750nm

Driver Type – Mean Well

Power draw – 100.5W/.83A±5% @ AC 120V

Frequency – 50-60HZ

Footprints – 3'x3' Veg, 2'x2' Flower

Built-in dimming for output control
Plug & play installation
Lightweight aluminum construction | conformal coated PCB
Includes FREE rope ratchet hangers
Standard Dimming Control – Output Adjustment
Adjust for Growth Phase, Plant Type, or Temperature Control
Easily control plant lighting requirements for different plant types or plant growth phases. Simple one-touch dimming with a remote cable allows you to turn it down for seedlings or small plants and ramp it up for maximum growth. Regulate your light output as needed, saving electricity and giving you complete control of your lighting throughout the plant growth cycle.
Samsung LM301B SMD LED Chips
GrowBright SS-1000 LEDs are built with LM301B LED Chips made by Samsung, a world leader in LED technology. These incredible surface-mount diode (SMD) chips from Samsung offer a clear advantage in quality of construction and performance vs. generic LEDs used in other fixtures.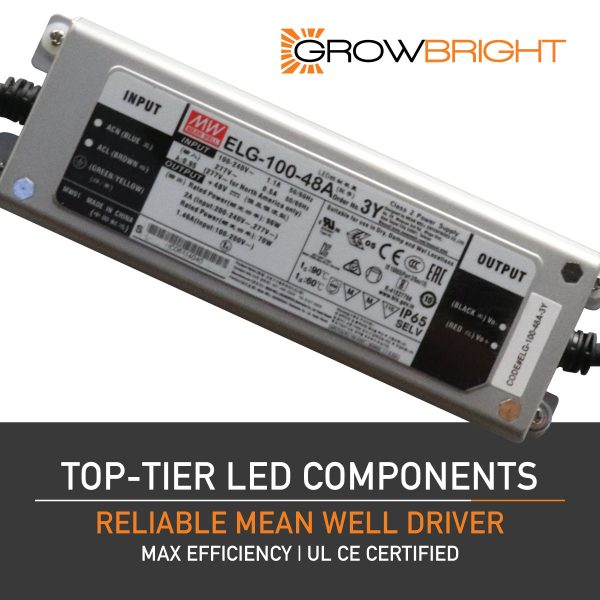 UL Listed Mean Well LED Driver
Mean Well drivers are well known for consistent build quality and precision, as well as operational reliability in indoor growing environments. That's why GrowBright SS-1000 LED grow lights are equipped with genuine Mean Well brand drivers.
Get the Most for Your Money
The GrowBright SS-1000 provides the best overall value with the highest light output and longest lifespan vs. similar fixtures. Get the most for your hard earned money with the GrowBright SS-1000.
Value, Versatility, Reliability, and Growing Power
Lighting is the most critical factor in any indoor garden. It can make or break a successful yield. Give your plants the advantage of the best horticultural LED technology and yourself the peace of mind of owning a product from a USA brand growers trust.
GrowBright SS-1000 Advantages:
Authentic Samsung & Mean Well Components

Growth Boosting Full Spectrum

High PPFD w/ Uniform Light Distribution

Easy dimming controls with remote cable

Multi-volt capability – operates on 120v-277v power

IP65 Rated Water Resistant conformal coating

Uses only 100 watts!
Plug & Play Installation
Your GrowBright SS-1000 LED comes ready to use out of the box with complete instructions and growing tips. FREE rope ratchet hangers are included to allow you to adjust to the perfect height for your plants. Use the optional dimming control with a remote cable to adjust output if desired. You'll be set up and growing in just a few seconds. Happy growing – GrowBright USA!
14-Day Product Guarantee. All sales final.