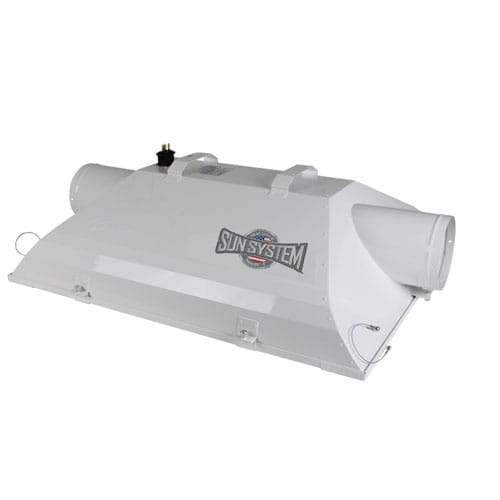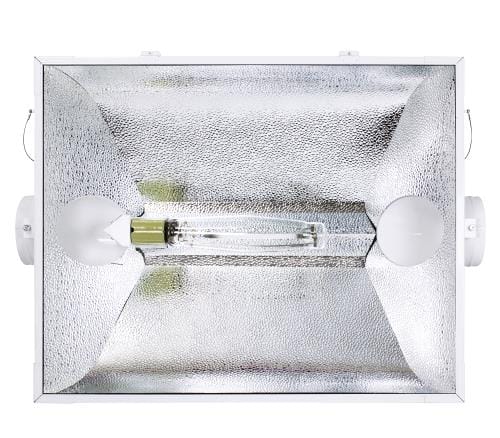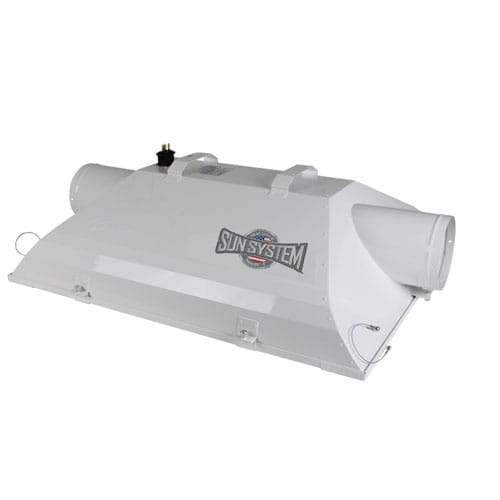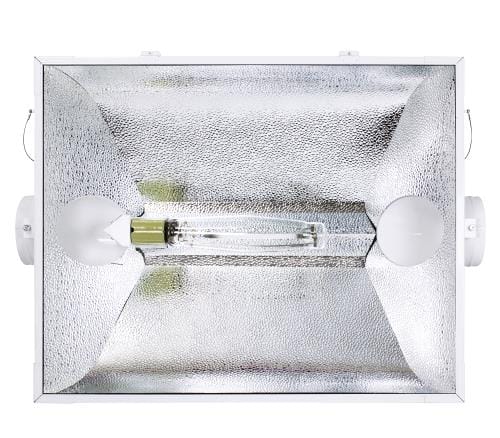 Magnum XXXL 6″ Reflector
The 6" Magnum XXXL reflector by Sunlight Supply is a massive grow light hood packed with great built-in features that deliver convenience and ease of use. When incorporated into grow room ventilation systems, extra large air-cooled grow light reflectors such as the 6" Magnum XXXL hood can provide tremendous benefits. With proper cooling, they can be placed close to the garden canopy while still maintaining excellent light distribution thanks to their size. This helps to maximize the production potential of growing lights by greatly increasing the light energy delivered to the garden. The Magnum XXXL reflector is an excellent option for pairing with medium to high wattage metal halide and high pressure sodium lights.
Out of stock
Overview
6″ Magnum XXXL Reflector – From the Manufacturer:
The Magnum XXXL® reflector now features new improved photometric performance. The 95% reflective German Hortibright™ aluminum interior offers excellent reflectivity and diffusion. Completely sealed — features double-gasket sealed glass (between glass & reflector and glass & frame) and hinged frame to hold glass tightly in place. Maximum air cooling with built-in fittings and EZ Breeze® aerodynamic junction box. Features bead ring to hold ducting firmly in place. Swing Stop® retention cable keeps the glass lens from abruptly swinging down. Captured thumb screws & closure mechanism provide ease of use and excellent sealing. The exterior is a powder-coated galvanized steel body. Comes with built-in level for easy hanging, integrated socket, and new detachable 15 ft lamp cord. Also features easy-carry handles.
Specifications:
Manufacturer: Sunlight Supply Inc.
Brand: Sun System
MPN (Part No.): 904520
UPC: 870883002152
Overall Dimensions: 39.9″ long x 29.9″ wide x 10″ high
Frame Measurement: 35.2″ long x 29.9″ wide
Flange: 6″
Safety Rating: ETL
Reflector Finish: Specular Hammered Aluminum
Bulbs Included: No
Socket Cord Length: 15 ft.
Hardware: Included
Housing: Galvanized/Steel
Made in the USA: Yes
Number of Sockets: 1
Socket Type: Mogul (E39)
Reviews
Only logged in customers who have purchased this product may leave a review.
Related Recommended Products