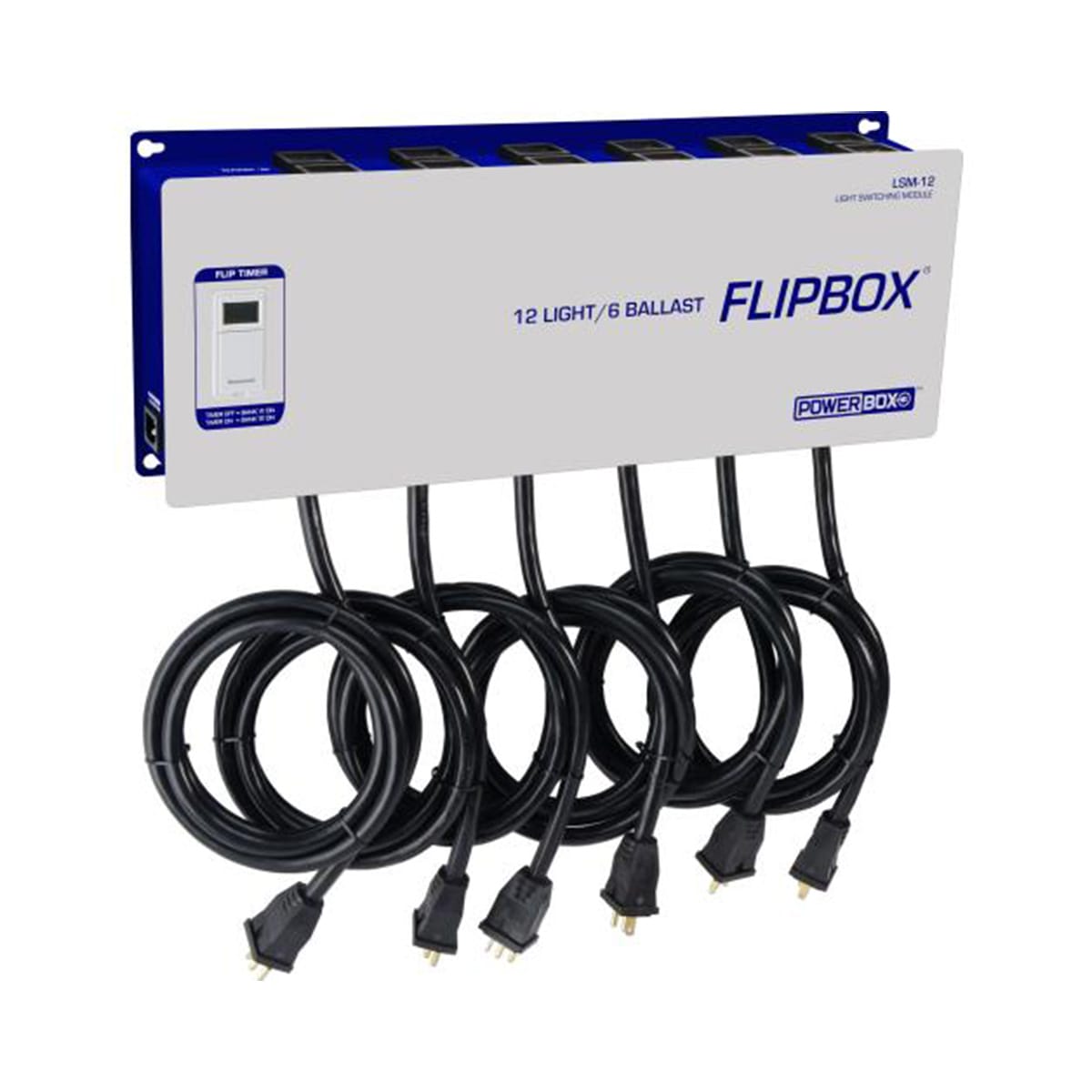 PowerBox Flipbox LSM-12 Light Switch
Eliminate additional overhead costs and double your production with PowerBox Flipbox LSM-12. This powerhouse of a unit can host up to 6 ballasts, with each ballast can running 2 lights for a total of 12 lights. Switching between lights ensures that ballasts are being used to their full potential and minimizes the electrical footprint that comes from on/off switching. The Flipbox LSM-12 comes equipped with a built-in digital timer for full automation, with a detachable trigger cord to override the timer.
Runs 12 lights with 6 ballasts
Operates 30 amps at 240 volts
120/240v compatibility
Only 1 left in stock
Overview
PowerBox Flipbox LSM-12 Light Switch
The Flipbox LSM-12 is 6 ballast, 12-light Flipbox that allows you to run 12 lights from 6 ballasts. This unit is a monster – paired with a DPC-7500, and 6 Quantums, you can run 12 lights from just 30 amps at 240 volts. Legendary PowerboxTM construction, these units will last for longer than you even want to be growing. The Flipbox LSM-12 has a built-in digital timer with a battery
backup to allow for complete automation.
Features:
 Convenient single unit with built-in timer allows for complete automation of switching between 12 lights from 6 ballasts
Double production without installing additional power circuits
Save money on ballasts – use 6 ballasts to run 12 lights
Minimize electrical footprint – no on/off switching – ballast is always on
Voltage independent – works with 120-volt and 240-volt ballasts
Fits Sunlight SupplyTM-style lamps and ballasts
A detachable trigger cord can override the built-in timer, so PowerboxTM can be controlled by your own timer or other devices
Keyhole tabs for easy mounting
Hand-built at PowerBox California factory with a 5-year warranty & Legendary PowerboxTM Quality
Reviews
Only logged in customers who have purchased this product may leave a review.
Related Recommended Products