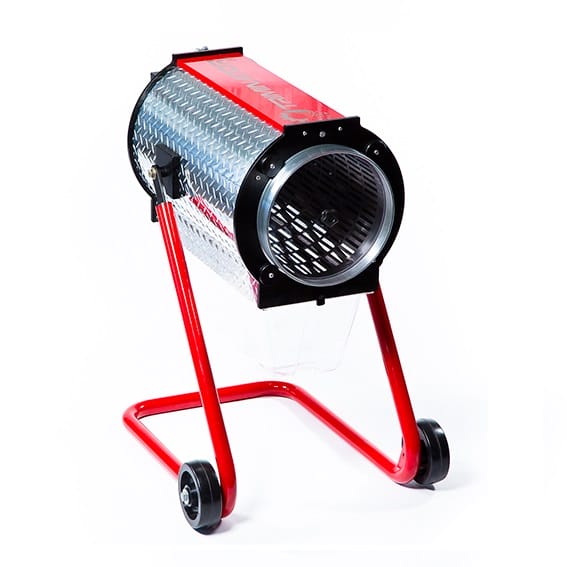 Triminator Dry Trimmer
Designed for growers who prefer to trim dry, the Triminator Dry trimmer has been specifically designed to be a fast, quiet, and user-friendly bud trimmer. Cut down on hours of tedious trimming with one of the best machines in the business. The Triminator Dry trimmer comes complete with rolling stand that tilts for easy loading/unloading.
Overview
Triminator Dry Trimmer
Trim up to 8 pounds of product per hour with the Triminator Dry trimmer, one of the best trimmers in the business. Specifically designed for a fast, quiet, and user-friendly trimming, this professional machine will help you cut down on hours of tedious trimming while preserving product quality.
PURE TRIM
THE TRIMINATOR ADVANTAGE – Proprietary material reduces the need for lubricants and reduces friction by eliminating metal on metal interfaces. Pure Trim technology keeps the product cooler, which reduces resin loss and stickiness, and produces the highest clarity extracts.
THOUGHTFUL DESIGN
MAXIMUM CUTTING SURFACE – Long narrow drum maximizes cutting surface resulting in faster trimming.
PERFECT CUTTING SPEED – By testing hundreds of rotating speeds we've established the perfect automatic cutting speed, slow enough to maintain the integrity of the product, fast enough to cut.
IMPACT FREE – A gentle tumble allows the flower to be exposed to new cutting surfaces naturally with little impact on product finish, if any.
PORTABILITY – This dry bud trimmer was designed to go anywhere. Simply roll it where you want to go.
EASY TO USE
TOOL FREE – Disassemble without tools in 15 seconds or less with innovative turn-loc system. Pull Pin system makes loading, trimming and emptying the machine quick and easy.
PRESSURE WASHABLE – Military-grade materials mean the Mini Dry was made to be used. Pressure washable means cleanup is a breeze.
SET AND FORGET TIMER – Load it, set the timer, and come back when done.
SPECIFICATIONS
Measures: 36″ Long x 24″ Wide x 36″ High
Weight: 75 lbs.
Electrical: 120v, 110 watts
Requires dedicated 20 amp circuit
LBS/HR: Up to 4-8
2-year manufacturer warranty
 *Extraction kit sold separately
Related Recommended Products