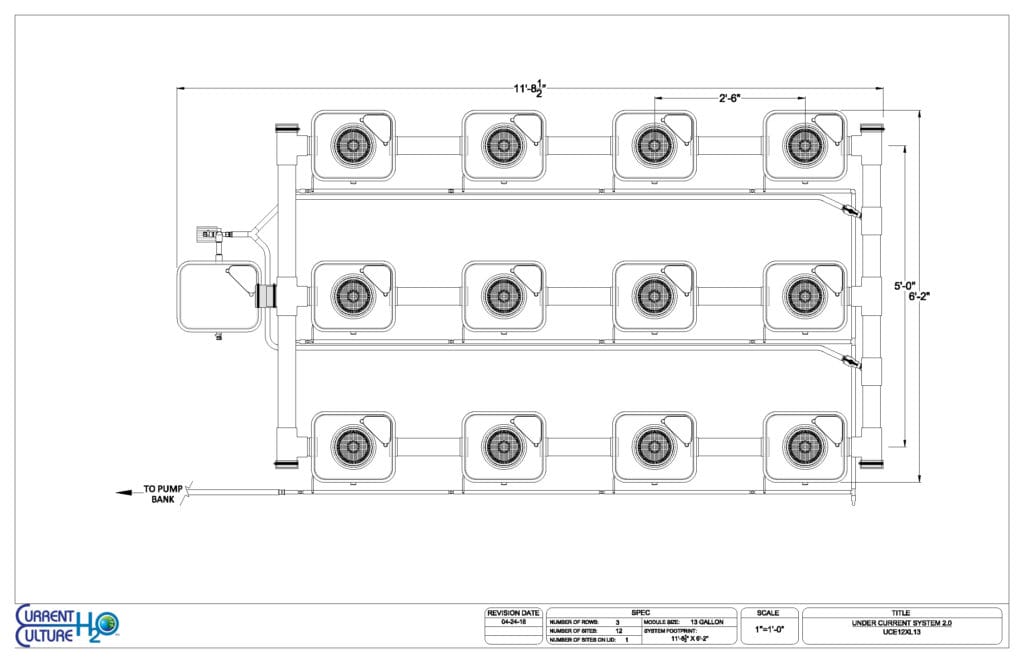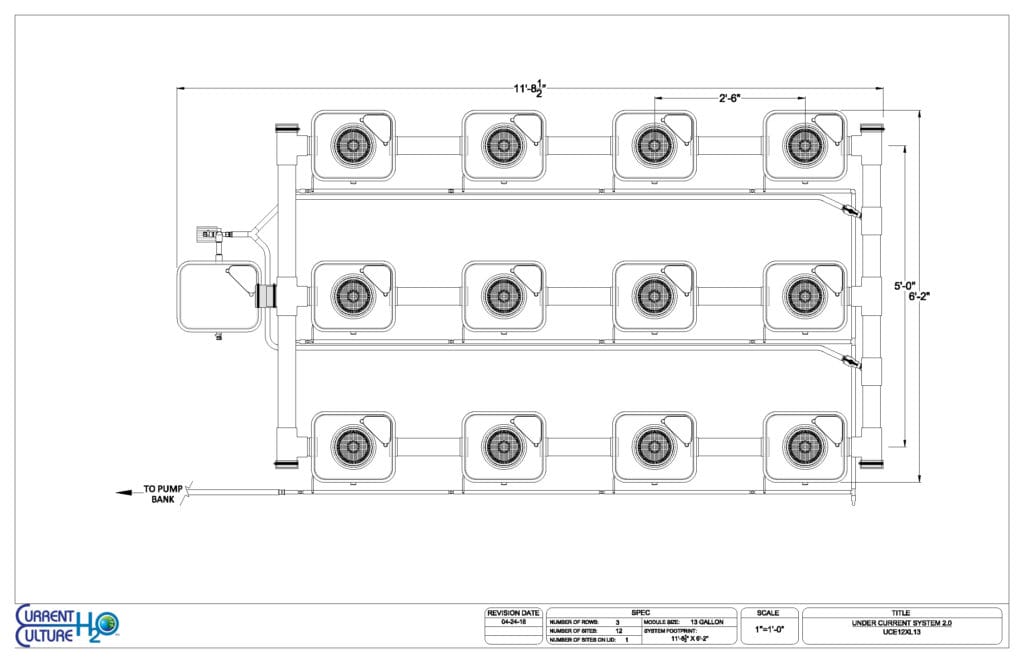 Under Current UCE12XL13 System
The Under Current UCE12XL13 is the perfect 12-site hydroponics system for medium to larger plant sizes. A variation of the standard 12-site Under Current Evolution system, the UCE12XL13 offers larger 13-gallon growth modules as well as expanded 30" plant spacing. In addition to the features found in traditional DWC system, the UCE12XL13 utilizes the patented CCH2O Sub-Current Culture system. This unique recirculating element provides constant circulation of hydroponic nutrients for outstanding growth and big harvests. Features:
Easy and reliable, no timers, no guesswork. Reduces labor & maintenance.
Greenhouse grade heavy-duty construction, water level marks, recessed drain wells, raised body for thermal cooling, and a smooth interior for easy cleaning.
Designed and manufactured in California.
Overview
Under Current UCE12XL13 System – From the Manufacturer:
The Under Current system is the world's only recirculating water culture hydroponic system to feature CCH2O's patented Sub-Current Culture circulation method.
Sub-Current Culture technology utilizes negative water pressure to recirculate highly oxygenated nutrient solution through the plant's root zone. This continuous fluid motion supercharges the nutrients with dissolved oxygen, creating hyper-aerobic conditions perfect for explosive plant growth. Constant 24/7 nutrient circulation ensures pH and EC levels are uniform throughout the entire system.
CCH2O unique water culture application is unprecedented in layout versatility and ease of use. The Under Current consistently delivers awe-inspiring yields for any sized application, from hobby to commercial greenhouse.
UCE12XL13 System Includes:
13 Gallon Blackout Series Growth Modules
New – CCH2O Multi Mod Epicenter Control Module
New – CCH2O 5.5″ Heavy Duty Lids with Port Hole
New – CCH2O 5.5″ Heavy Duty Net Pots
New – High Flow 2″ Manifold & Joints with 2″ UC Spin-Tight Bulkheads
Premium Danner Mag-Drive™ Return Pump
Premium Linear Air Pump(s)
9″ Air Diffuser Disc
Aqua-Pore Air Diffusers
Air Distribution Manifold
Air Hose, In-Line Filter(s)
Adjustable Float Valve with Reservoir Adapter Kit.
*Boneless Spacing Option: All Under Current systems are available in a "Boneless" configuration. Boneless systems ship WITHOUT straight sections of piping allowing for custom plant spacing.
*Remote Epicenter Option: All Under Current systems are available with a "Remote Epicenter" option. This allows growers to place the Epicenter (control module) on the outside of their grow space or tent.
*Please note: Both of the above-noted options require the separate purchase and installation of PVC pipe.
UCE12XL13 Specifications:
NUMBER OF ROWS: 3
NUMBER OF SITES: 12
PLANT SPACING & MODULE SIZE: 30″ Centers / 13 Gallon
SYSTEM FOOTPRINT (FEET / METERS): 6'2″ x 11'8.5″ / 1.88m x 3.57m
TOTAL SYSTEM VOLUME (GALLONS / LITERS): 146 / 553
POWER USAGE (WATTS): 223
AIR PUMP SIZE(S) (LPM): (1)30, (1)100
AERATION RATE (LPM PER GALLON): 0.89
WATER PUMP SIZE (GPH / LPH): 950 / 3597
RECIRCULATION RATE (EXCHANGES PER HR.): 6.51
UCE12XL13 Recommendations:
GROW AREA (FEET / METERS): 12′ x 16′ / 3.66m x 4.88m
LIGHTING (HORIZONTAL): 6 X 600W OR 4 X 1000W
LIGHTING (VERTICAL): N/A
WATER CHILLER SIZE* (HP): 1/4 – 1/2 HP
RESERVOIR (GALLONS / LITERS): 150 / 600
VEG TIME (WEEKS/IN.): 3-5 weeks / 24″-36″
VEG TIME (WEEKS/IN.): 3-5 weeks / 24″-36″
*General recommendation. Check manufacturers specifications for proper chiller sizing.
Reviews
Only logged in customers who have purchased this product may leave a review.
Related Recommended Products