We all get our H2O from somewhere and for those growers using municipal taps or bleak groundwater, testing and correcting water issues is the first step in addressing issues in your garden. Water quality is important to your plants and knowing the pH and TDS of your source water is a great step towards mastering your indoor gardening skill.
Just as you filter the water you drink, your plants need the same quality to grow safely and happily. Hydroponics experts know how important your water's pH is, so treat your plants with clean, stable water. The results will be remarkable when you have a balanced water supply.
Whether you need a meter to measure, an RO system to clean and purify, a chiller to keep those temperatures down, or just some pH Up and Down, HTG Supply has you what your water needs to succeed. Discover our assortment of water quality control systems to try with your hydro garden today!
Types of Water Quality Control Methods
Water systems can range based on your control needs and hydroponics method. Most growers will use at least one of our control supplies, and many use all three types. Here are the three ways you can maintain your water supply:
Filtration systems: Some minerals in your water can be helpful to your plants, so a water filter gets rid of only the ones that might harm their growth. From sediment to chlorine, certain materials in your water can prevent your plants from growing to their fullest. A filtration system removes impurities so you can experience the best results.
Water chillers and heaters: Your water reservoir needs to maintain a specific temperature for proper growth. Plants prefer a water temperature between 68 and 72 degrees Fahrenheit. Water chillers or heaters help your system adapt to extreme weather in the summer or winter.
Testing and monitoring: Issues with pH or total dissolved solids (TDS) in your water supply are always preventable. Testing and monitoring your water for minerals lets you advance your growing process. An investment in pH, calibration or cleaning solutions can alter your water and create a better nutrient supply for your seeds to absorb.
Manage Your Water Systems With Help From HTG Supply
Your hydroponics system's success depends on the way you manage it. All plants need "food" to keep them healthy, and a clean water supply can be the basis for your balanced nutrient solution. From filters to heaters, you can tailor your hydro garden's water to be perfect and become an advanced grower in the process.
At HTG Supply, we carry the best water quality control systems and get them to you fast. We are the quickest indoor garden supply shippers in the country, so we pack your order within 24 hours of placement.
To get started, browse our options for water quality equipment and learn more about industry methods from our information center. If you want to speak with a professional grower, you can reach out to us online or visit one of our retail locations.
Check back after you've done some shopping!
Newest Water Quality Control
Most Popular in Water Quality Control
Related Articles & Videos
Table of contents What Is a Hydroponic System? What Are the Types of Hydroponics? What Is the Best Hydroponic System? What are the components of a Hydroponic System? Pros and…
In this video, Dr. Myers compares growing in soil vs hydroponics. Both seeds were started in the same AcceleRooter plugs and were then moved to their respective containers. They were…
Vertical horticulture has been a staple of crop cultivation for thousands of years. Ancient Greeks and Romans tended fields of grapevines grown vertically on wooden posts, and the mythical hanging…
CLICK HERE TO PURCHASE YOUR HYDROPONIC GEAR In this video, Dr. Myers will show you how to begin growing hydroponically. There's plenty to know, so be sure to follow along…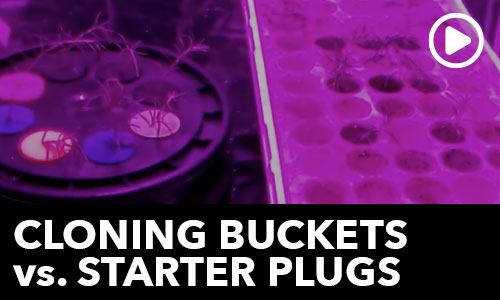 Ask The Doc explains how to clone plants using hormones and an HTG Supply Cloning Bucket! In the video he will compare the root growth of the Cloning Bucket versus the…

By: HTG Supply Taylor on 09/15/2017 This week for Talking Shop we are going over some tips for helping you to produce some of the healthiest roots possible. Typically seen as the…
By: HTG Supply Prospect Park on 09/22/2017 Welcome back folks to another Talking Shop with High Tech Garden Supply in Prospect Park. Each week we try to discuss something different or unique…
By: HTG Supply West Springfield on 10/06/2017 Strap in, this one's more of a tutorial instead of an editorial! I use a sort of RDWC system that is basically a hybrid of…
By: HTG Supply on 11/16/2017 Quick Nav Menu What is Ebb and Flow? Flood and Drain System Types DIY Flood Table Systems Modular Ebb and Flow Systems How to Use Flood…

By: HTG Supply on 12/14/2017 Quick Nav Menu What Are Hydroponic Growing Mediums? Medium-Related Variables Best Hydroponic Medium Types Rockwool Coco Coir Perlite Expanded Clay Pebbles Growstone Coupon Code With all of…
By: HTG Supply on  12/22/2017 Quick Nav Menu What is pH? Why is pH Important for Hydroponics? Nutrient Solution pH Influences Testing pH Adjusting pH Maintaining Grow Zone pH Coupon…