To Our Valued Growers,
We are sad to inform you of the difficult decision we have made to close our HTG Supply Portland public storefront. Your patronage and loyalty have been greatly appreciated, and we are sincerely grateful for the trust you have placed in us. Our Portland location will remain on Rand Road to continue supplying equipment and replenishables to our commercial clients by appointment.
For hobbyist growers: We want to assure you that our commitment to serving your growing needs does not end here. Our online store will remain available to you, where you can order the supplies that you need from the comfort of your own home. We offer the best selection and pricing online, and we will be launching an all-new website this fall that will provide an even better shopping experience.
For commercial growers: Our dedicated commercial division account managers are here to assist you remotely or on-site with the same unmatched special pricing, service and support you have enjoyed previously. For assistance with your commercial account, or to schedule an appointment, please reach out to us via phone at (207) 899-4387, or email at [email protected].
Again, we want to express our deepest appreciation for your loyalty and support. It has been an honor to serve you and your home gardens, and we will cherish the memories and relationships we have built with you at our Portland store.
Sincerely,
Your HTG Supply Team
Visit Our Grow Store in Maine
If you are looking for a Maine hydroponics store, stop by HTG Supply in Portland. When you choose to buy your supplies from HTG Supply, you get:
– Expert staff that knows how to grow
– Commercial and home grower service
– Educational resources and workshops
– In-store living demos
– Loyalty Program
When you visit the store, you can sign up for your HTG Supply Loyalty Card to earn points on your purchases for future discounts. You can also drop in on Free-Tea Tuesdays to try our famous Stump Tea compost tea free of charge with no purchase required. We hold in-store events frequently, so follow us on social media to stay in the loop.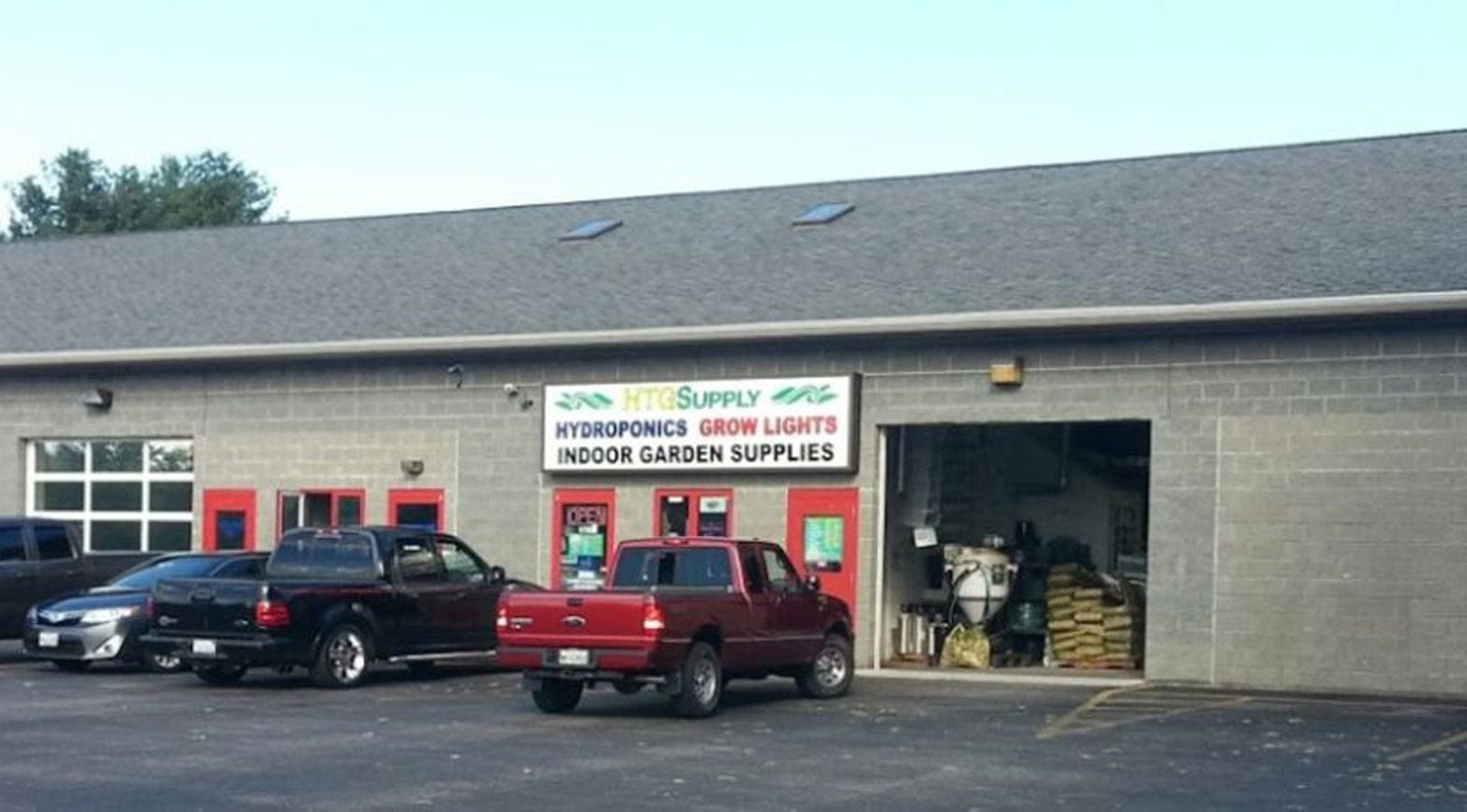 Essential Indoor Garden Equipment
We carry all the equipment necessary to set up your indoor grow space, including:
Grow tents: A grow tents acts as a self-contained greenhouse within your home. These structures help you regulate temperature, keep out contaminants and capture plant odors for an ideal grow area. We sell grow tents in numerous sizes so you can find a solution for any space, whether it's a closet or a small room. Choose between individual tents or grow tent kits that come with lighting.
Grow lights: HTG Supply has the powerful lighting solutions you need to optimize plant growth. Our grow light selection includes T5, high-pressure sodium (HPS), metal halide (MH), ceramic metal halide (CMH) and light-emitting diode (LED) lights available in complete systems or individual bulbs. We also supply ballasts, hoods and reflectors for do-it-yourself setups.
Hydroponics: Whether you are looking to build your own hydroponic garden, add more parts to your existing setup or purchase a complete system in one convenient package, you will find the hydroponic solutions you need in our large inventory. We carry deep water culture (DWC), ebb and flow, aeroponic and drip irrigation systems.
High-Quality Growing Supplies
Your plants need premium supplies to ensure optimal health and growth. Our selection includes:
Soil and growing mediums: For premium soils, soilless media and amendments, HTG Supply has the natural products you are looking for. We stock all the top brands of growing mediums, including CANNA, General Hydroponics and FoxFarm. You can choose from individual quantities or bulk options depending on the size and needs of your growing operation.
Pest control: Indoor gardens are prone to infestations from insects like spider mites and whiteflies. They can also develop diseases such as blight and powdery mildew caused by fungi. When you use our insecticides and fungicides as part of your integrated pest management (IPM), you can eliminate these issues and prevent new ones from developing.
Nutrients: HTG Supply has one of the best selections of hydroponic and indoor growing nutrients on the market. We sell base nutrients, enhancers, conditioners, organic products and supplements made by top brands for quality you can count on.