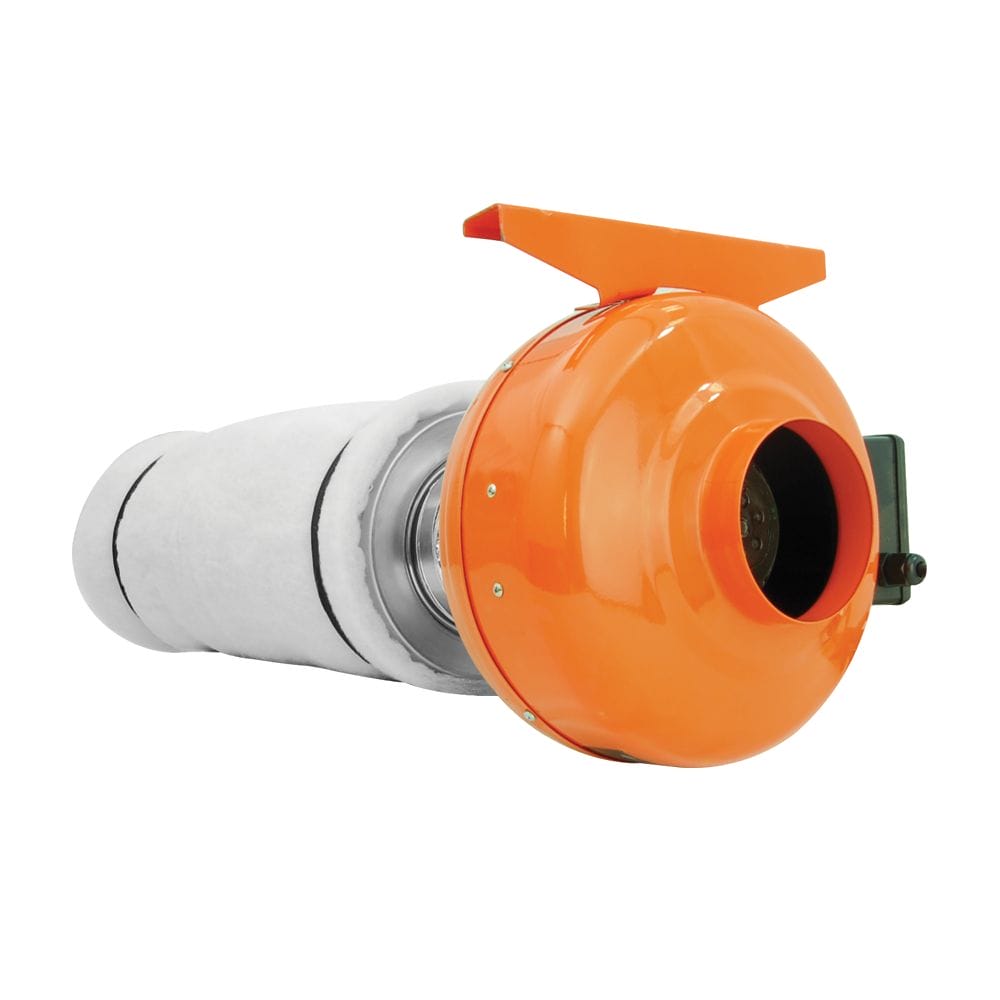 GrowBright 4″ Tall Boy Inline Fan & Filter Combo
The GrowBright 4" fan and Tall Boy carbon filter combo easily eliminates odors in the indoor garden. The carbon filter fan combo includes the GrowBright 4" HV inline fan with 170 cfm airflow and the GrowBright 4" Tall Boy carbon filter with built-in 4" flange. This fan and filter are perfectly calibrated to work in tandem for effective ventilation and odor control. Carbon filters work by using super fine virgin charcoal that literally filters out odor particles from the air. If odor is an issue for you, you cannot get any better odor control than a carbon filter.
Overview
GrowBright 4 Inch Inline Fan & Tall Boy Carbon Filter Combo
The GrowBright 4″ HV fan and 4″ Tall Boy carbon filter are perfectly calibrated to work in tandem for effective odor control. This combo is an excellent choice for controlling odors in smaller grow closet or grow tent spaces up to 4'x4′ in size. With built-in flanging for the system also integrates easily into air-cooled grow light setups for cooling with effective odor control.
4 Inch Inline Fan by GrowBright
GrowBright high-velocity inline fans are quiet, powerful, and perfect for use in a variety of indoor gardening applications including carbon filter odor control, as well as air-cooling for HID lighting and general ventilation.
170 CFM (cubic feet per minute)
 Solid STEEL construction (not cheap plastic)
 ELT listed for safety
 Mounting bracket included
 Grounded power cord (plugs into a standard household outlet)
 Uses 80 watts of electricity 120V/60Hz
 Quiet (47 db)
 2500 RPM
 5-year warranty
GrowBright 4 Inch Tall Boy Carbon Filter
GrowBright Pure Flow carbon filters are constructed with a "packed bed" design to give consistent performance, long life (12 to 18 months), and are completely maintenance-free. Using only highly porous virgin activated carbon, GrowBright Pure Flow carbon filters eliminate all odors as the air is forced by the millions of open fissures in the packed carbon.
Flange: 4 inches
Diameter: 6.25 inchesLength: 21 Inches
Optimal CFM Range: 170-265 cfm
Carbon Weight: 7.7lbs
Prefilter included
IS THIS THE RIGHT SIZE FOR YOUR FILTERING NEEDS?
Effective treatment requires the exchange of air in the growing area within a period of 5 minutes. Compute your requirements by multiplying the (length x width x height) of your growing area to obtain the total cubic feet. Divide this number by 5 to determine the proper fan and filter size needed.
For example, if your growing area is 8 feet long by 8 feet wide by 8 feet tall, it contains a total of 512 cubic feet. To treat this area in five minutes, you would need to use a fan with a minimum CFM (cubic feet per minute) rating of approximately 102. If you have questions about sizing, please feel free to contact us or give us a call at 1-866-710-GROW(4769). Customer service is available to assist Mon-Fri, 9:00 a.m. to 5:00 p.m. Eastern.
Reviews
Only logged in customers who have purchased this product may leave a review.
Related Recommended Products