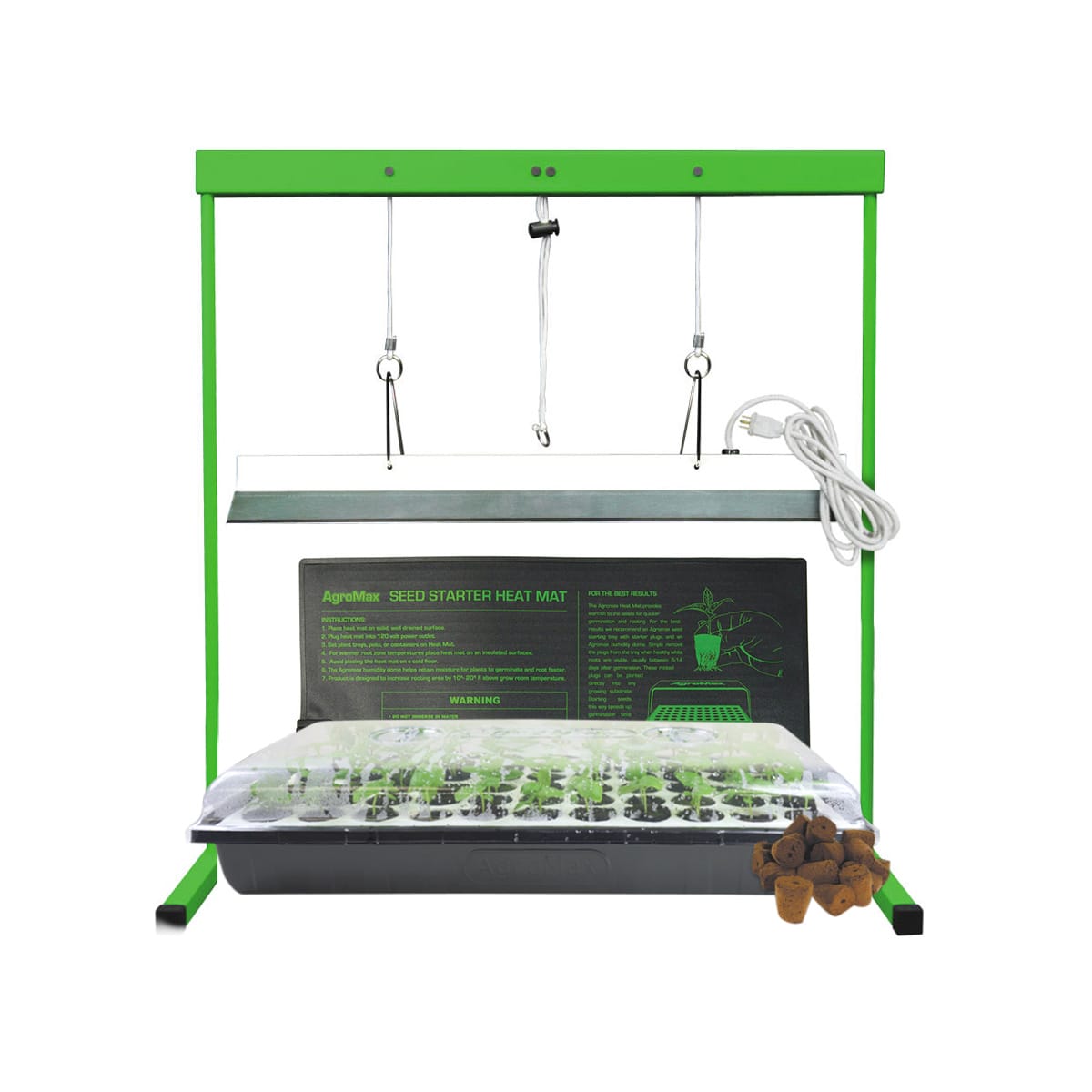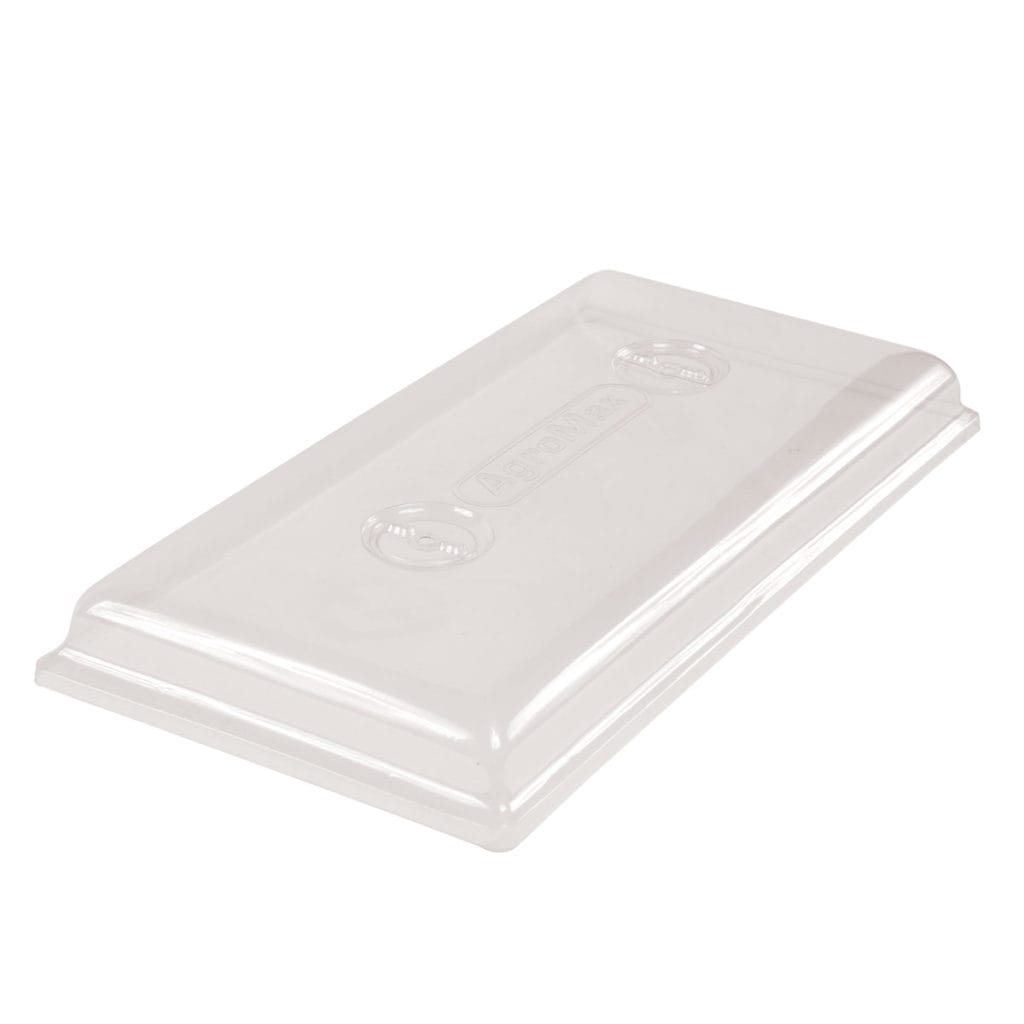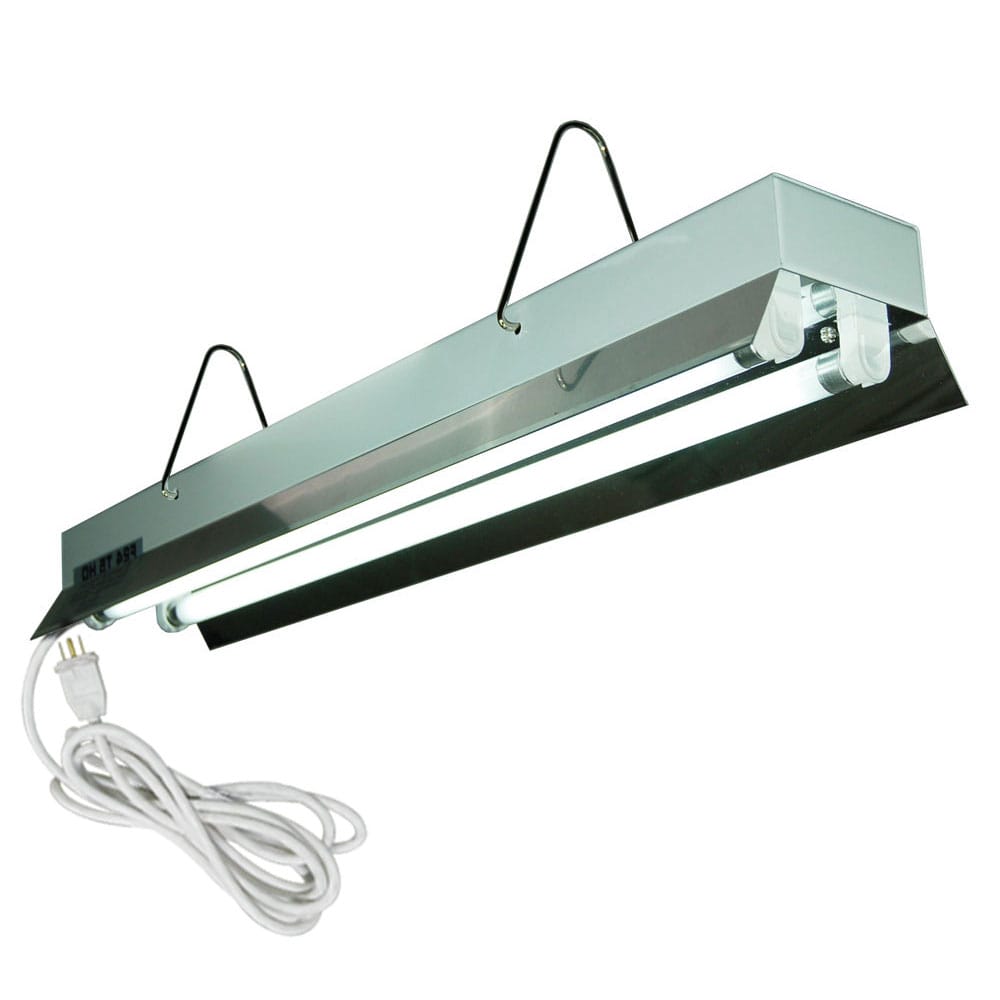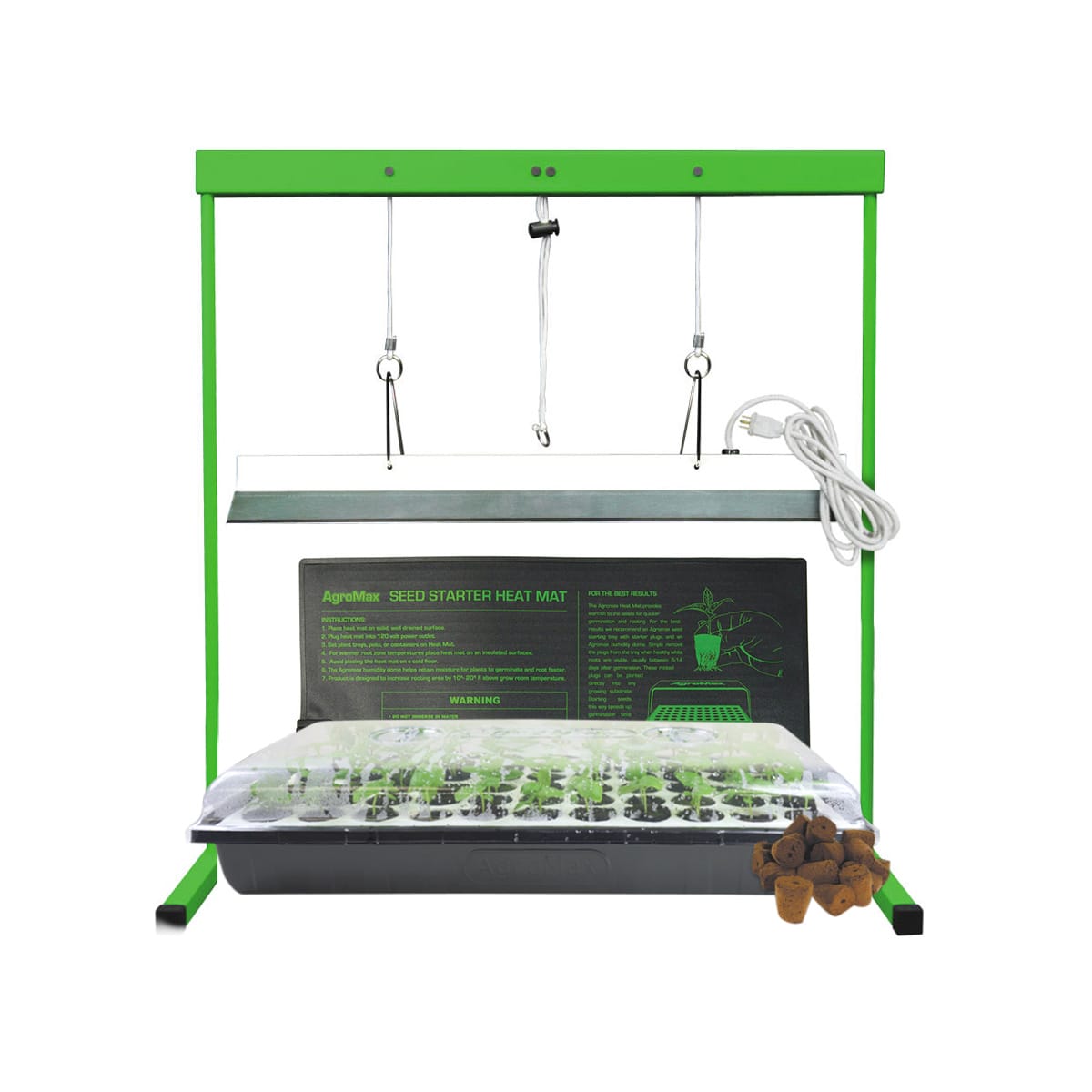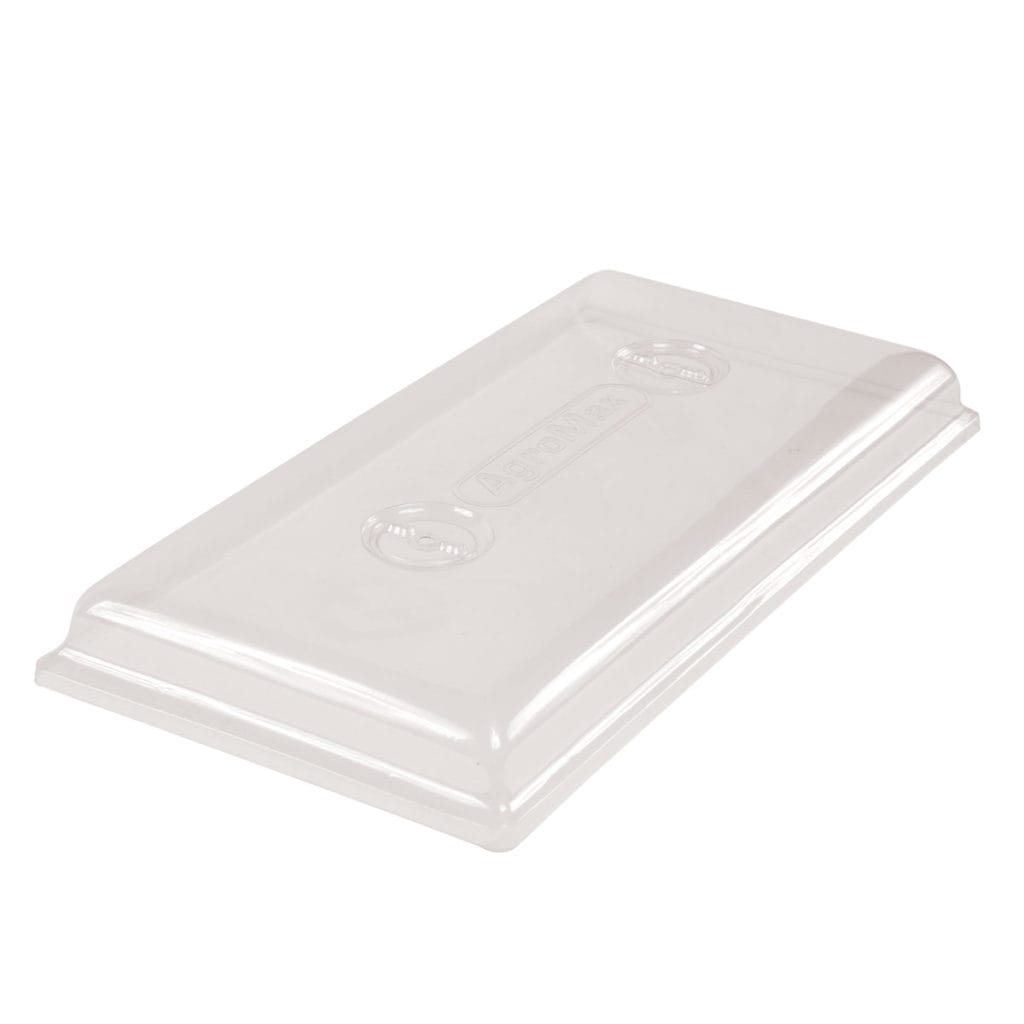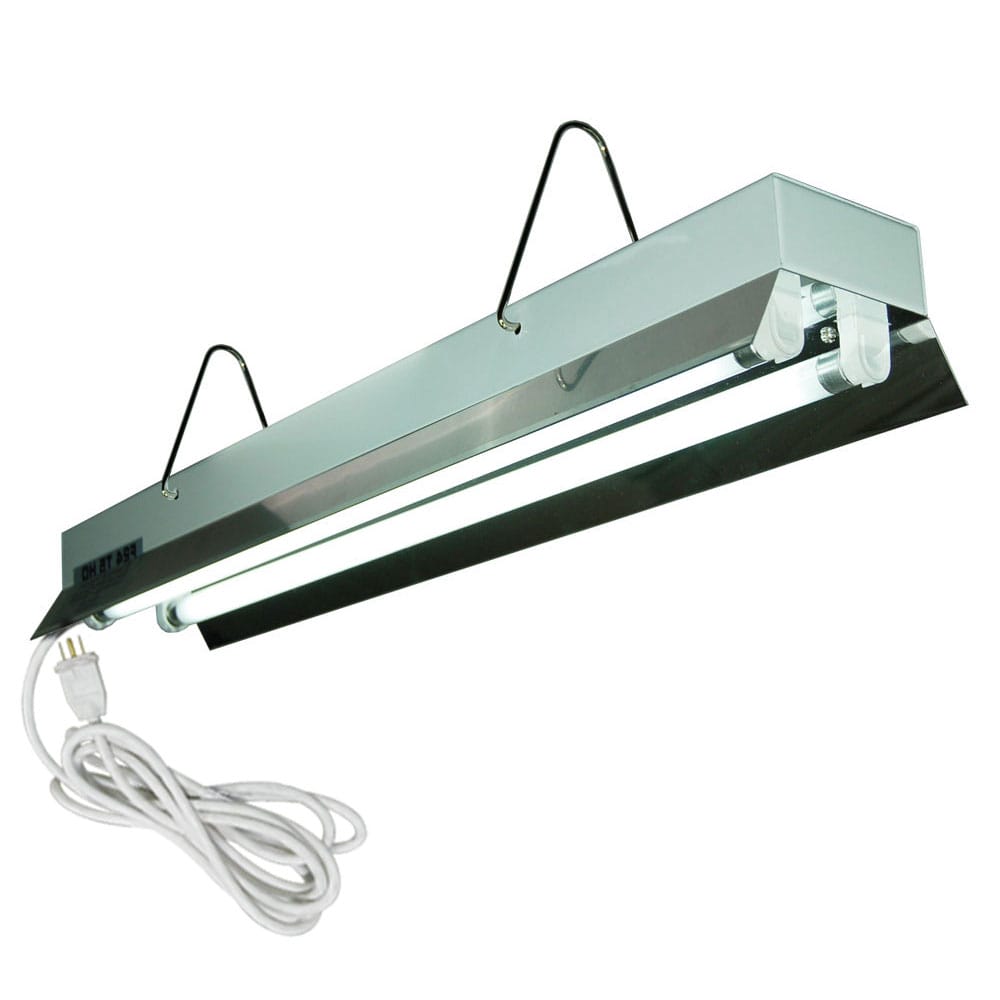 HTG Supply Seed Station Starter Kit with Grow Light
A no-fuss, simple, complete seed starting kit with grow light. The HTG Supply Seed Station Starter Kit is a compact germination system that creates the perfect environment for starting seedlings. Everything is included- a heat mat, T5 grow light system with stand, humidity dome, and a seed starter tray to start your seeds off right! No hardware installation hassle, no overwatering/underwatering risk, and no messy soil cells to deal with. Just insert seeds, add a little water, and they're off! SYSTEM INCLUDES: AgroMax 2' Light Stand, 2' 2-lamp T5 grow light with (2) 2' 6400K bulbs, HTG Supply seed starter kit with heat mat, humidity dome, and seed floating seed starter with seed plugs
Overview
HTG Supply Seed Station Starter Kit with Grow Light
Looking for a no-nonsense seed starting kit? The HTG Supply Seed Station Starter Kit includes everything you need for seed-starting success. No hardware installation hassle – no overwatering/underwatering risk – no messy soil cells to deal with. The self-supporting lighting system sets up easily on the floor or tabletop, while the floating seed starter system ensures the perfect air/water ratio for germination and maintains ideal humidity levels. Just insert seeds, add a little water, and they're off!
Quality Lighting for Rapid Vegetative Growth:
High output, low power consumption, and low heat output make T5 grow lights perfect for seed starting and cloning. The Seed Station includes the 2'/2-lamp GrowBright Alumisun T5 grow light with (2) horticultural-grade AgroMax 6400K T5 grow light bulbs, which provide the best light lighting spectrum for rapid vegetative growth. The T5 light fixture is supported by the AgroMax 2′ light rack, and hangs and adjusts in just seconds using the stand's built-in adjustable hanger system.
Improve Overall Germination Rates:
The HTG Supply floating seed starter system is a surefire method for successful seed-starting. Included heat mat and humidity dome create the perfect micro-environment to establish strong sprouts. All natural no-mess seed starter plugs are infused with a starter charge of plant nutrients, and transplanted directly into soil gardens or hydroponic systems when seedlings are ready. Just maintain water in the system, and you'll be amazed at how fast they grow!
Starter Kit Features:
Assembled system overall measurements: 26″ long x 18.25″ wide x 26.5″ high
Electrical (light, heat mat): 65 watts total, approx. .5 amps @ 120v
Includes: AgroMax 2′ Light Stand, 2'/2-lamp T5 grow light with (2) 2′ 6400K horticultural T5HO bulbs, and HTG Supply seed starter kit with heat mat, humidity dome, and seed floating seed starter with seed plugs
Light features a built-in 6′ power cord with a standard-household grounded plug (NEMA 5-15)
Vented humidity dome features 2 adjustable openings for humidity control
Simple assembly- no tools required.
Reviews
Only logged in customers who have purchased this product may leave a review.
Related Recommended Products