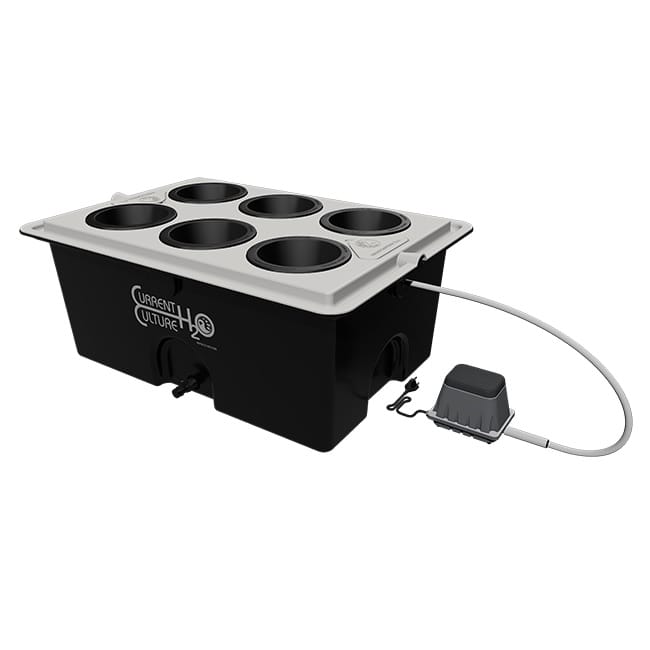 Under Current UCSOLOPRO6 System
The UCSOLOPRO6 Under Current DWC system provides an easy and highly effective way to grow with hydroponics. Complete with an air pump, diffuser, and drain valve, the UCSOLOPRO6 system functions like a self-supporting module of the multi-site Under Current PRO systems  – no additional parts needed! Features:
The self-contained multi-unit DWC system is excellent for cultivation in limited space.
Greenhouse grade heavy-duty construction, water level marks, recessed drain wells, raised body for thermal cooling, and a smooth interior for easy cleaning.
Designed and manufactured in California.
Out of stock
Overview
UCSOLOPRO6 Under Current DWC System
Grow your favorite herbs, vegetables, and more with the UCSOLOPRO6 Under Current DWC system. With a large 35-gallon reservoir and (6) 8″ net pots, the UCSOLOPRO6 can easily support 4 small to medium size plants that will bear excellent yields. This simple and effective system provides ease of use and maintenance for new growers, with professional-quality construction that any seasoned grower would appreciate. Just add your nutrient solution, plug in the air pump, and watch them grow!
UCSOLOPRO6 Includes:
PRO Growth Module – 35-gallon solid ABS
PRO Lid with (2) Port Holes – solid ABS
CCH2O Net Pot 8
Professional grade air pump
Air pump adapter
Air hose
Aqua-Pore PRO XL air diffuser
CCH2O Drain Valve Kit
Cultured Solutions® (UC ROOTS, VEG A, VEG B) nutrients
1-Year Warranty
UCSOLOPRO6 Specs & Features:
GROW AREA (FEET / METERS): 4′ x 4′ / 1.23m X 1.23m
LIGHTING (HORIZONTAL): 1 x 600W / 1000W
VEG TIME (WEEKS/IN.): 1-2 weeks / 12″-18″
SYSTEM DIMENSIONS (IN.): 25″ x 36″ x 15″
TOTAL SYSTEM VOLUME (GALLONS / LITERS): 30 / 114
POWER USAGE (WATTS): 30
AIR PUMP(S) (LPM): 40
AERATION RATE (LPM PER GALLON): 1.33
Reviews
Only logged in customers who have purchased this product may leave a review.
Related Recommended Products