Being stuck indoors for days on end is taxing, physically and mentally. We thought we'd brighten (or green) up your day a bit by putting together a few short guides on fast growing vegetables for you to plant now and harvest within 2 months. We know that lettuce, lettuce, and more lettuce is probably getting old at this point, how many wedge salads can you really eat before going insane, so we'll mix it up a bit and expand beyond just leafy greens. There's a whole world of crops that can go from seed packet to plate in under 7 weeks, and as long as we're still indoors might as well start growing. We'll also cover lettuce, just in case.
This is the first of several Quick Crop guides, and to kick things off we're going to tackle radishes, a fast-growing vegetable perfect for novice gardeners.
The radish, an unassuming root veggie, is a member of the Brassicaceae family, a group of flowering plants known better as the mustards, crucifers, or the cabbage family. While it is related to crops such as cabbage, cauliflower, bok choy, broccoli, turnip, rapeseed, and horseradish, the Raphanus raphanistrum stands out for its sharp, often spicy flavor and crunchy texture.
There are several ways to classify radishes, sorted by root size, geographic origin, and growing season. You could also differentiate by use; for oilseed & forage, edible seed pods, or edible roots. Cultivated radishes break down into two primary varieties, fast-growing and daikon. Fast-growing is probably what you're more familiar with, the golf ball to baseball sized red, purple, and white radish commonly grown worldwide. Daikon, not so much. These radishes are common in East Asia, they grow to sizes much larger than the common radish, with the largest variety growing up to 100lbs!
Radish
Radishes are easy-growing vegetables that can be harvested in only 3-4 weeks after planting. They make excellent additions to salads and summer dishes. Radishes generally will form a round root, with colors ranging from white to bright red to deep purple to yellow to black. Fast-growing varieties will be ready to harvest in about 3-5 weeks after planting. All parts of the radish can be consumed, the root used much like a carrot, and the greens used like any other leafy green.
They love light, so be sure to give them full sun equivalent in your indoor setup.
Radishes are root veggies, much like carrots. This means that they'll work better in indoor soil vs. indoor hydro.
Make sure you have compost, castings, and/or fertilizer in a well-draining soil mixture.
You can still grow radishes in hydroponics, they grow pretty funky without pressure from soil.
Planting and Growing
For soil, we recommend either a pre-amended potting soil, like Ocean Forest or Organic Mechanics Container Blend. Both of these come with fertilizer blended into the soil, so there will not be a need to add any NPK throughout the radish's growth. A good supplement to try instead would be mycorrhizae or beneficial bacteria, using something like Stump Tea. For a root vegetable, beneficial microbes are extra-important in promoting strong root growth and bigger yields.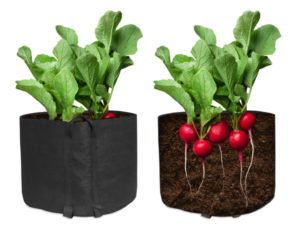 If you do not have pre-amended soil, that's not a problem. Taking advantage of any topsoil you may have access to can be a substitute for pre-amended soils. To add nutrients to your topsoil, mix in compost and worm castings when filling your containers. Worm castings and compost will be available at most garden stores (including your local HTG Supply).

For planting containers, you'll want anything that helps your soil drain. Ceramic pots will work, but the hard walls allow for limited flex in the soil or growth in the root. Nursery pots are a slightly better bet, but there still is limited drainage out of regular pots. Containers that will work best will be Oxy pots and fabric pots, both provide better drainage and flexibility than a regular plastic container.
After a week of growth, thin your container of radishes to about 2" spacing between plants.
Soil needs to be moist, not wet. Check on your plants daily and top off when moisture levels seem low.
Harvest
Radishes can be harvested soon after planting. Be sure to check the recommendations of whatever variety you plant for a specific time and size to harvest. A good rule of thumb is to pull the radish from the dirt when the exposed root is about or just under one inch in diameter. If you pull your first radish and its ripe, go ahead and pull the whole lot.
Once they're out of the ground, cut the green off the top and the root tail off the bottom. Give the radishes a thorough wash, a thorough dry, and store them in breathable containers in a refrigerated area.
Seeds/Varieties
Below are links out to external sites, all seed sources we've used in our HTG Supply stores and our HQ. All of these varieties have been selected for their quick yield.
Johnny's Seeds
Rover (F1) – Extra early and refined, 21 days
Easter Egg II – Multicolor mix, 30 days
Pearl (F1, Organic) – Pure white with strong tops, 28 days

Baker Creek Heirloom Seeds
Zlata – Russeted yellow roots, 30 days
De 18 Jours – Old French variety, 18 days
Purple Plum – Bright purple, 28 days

Southern Exposure Seed Exchange
Cherry Belle – Sweet spring variety, 24 days
White Icicle (Lady Fingers) – Carrot shaped mild variety, 29 days
Sparkler White Tip – Sweet bicolored globes, 24 days
Good Eatin'
So what are you going to do with all these radishes? Share what you want with socially distanced friends and family, then check out these links for radish cooking ideas.
Bon Appetit – Has 35 recipes that make use of radishes
The Kitchn – Ideas for just radishes, no extra ingredients required
Review
Ravishing red radishes regain regal recognition to kick off our quick crop guides. In as few as 18 days you can toss some pizazz on your next sandwich or salad. Or, if your diet has been relatively unadventurous, eat your first raw radish. Regardless, we hope this helps you get your quarantine-garden started. Stay tuned for more to come on other quick indoor veggies.
If you take our advice and go ahead and grow some radishes, let us know at talkin[email protected] or on our Facebook, Twitter, and Insta!
Other Learn About Quick Crops articles