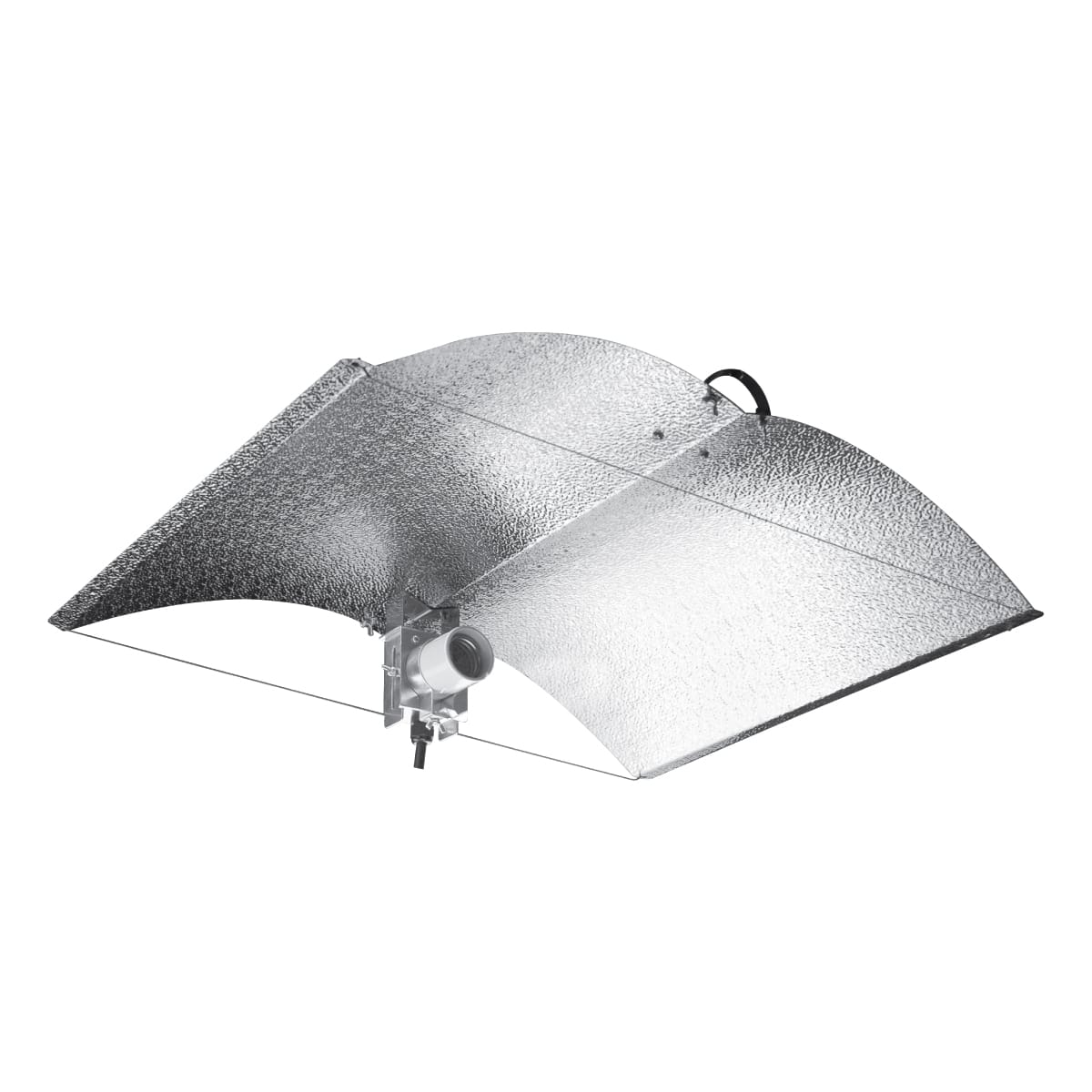 Adjustable Wing Reflector – 600 Watt
The ultimate budget-friendly reflector with efficient light output, the Adjustable Wing Reflector features 3 points of adjustment to modify the intensity and coverage that suits your garden best. High-quality panels are made with ultra reflective aluminum that absorbs light from the 600-watt bulbs and dissipates it back out, ensuring each plant gets the same amount of light all around. Reflector comes unassembled in the package containing everything you need to set up and start growing.
Adjustable wires and lamp-holder for modifying canopy coverage.
Contains Reflector ONLY: Bulb and ballast not included.
For single-ended 600-watt bulbs.
14-Day Product Guarantee.

All sales final.
In stock
Overview
Adjustable Wing Reflector – 600 Watt
The 600 Watt Adjustable Wing Reflector panels are made with highly reflective aluminum that bounces the light from the light source back down to your plants, doubling your light output with just a single 600w bulb! Optimize your grow to its fullest potential with three separate points of adjustment located on the reflector. Each side of the reflector features an adjustable wire to modify the light pattern, a wider angle distributes an even light over a large area while bringing the wire in creates a more heavily concentrated source of light. Lastly, the lamp holder can be adjusted vertically for fine-tuning light intensity. Comes with everything you need to set up the adjustable wing reflector including 2 reflector wings, 2 adjustable wires, hanging hooks, and a lamp holder.
Ballast and bulbs NOT included.
Features:
Three adjustable points to model different season
Reflective aluminum panel increases light output
Absorbs and dissipates heat to keep the unit cool during use
The most efficient way to distribute light
Easy to assemble
Package Contains:
2x Reflector wings
2x Adjustable wires
2x Hanging hooks
1x Lamp holder
14-Day Product Guarantee. All sales final.
Specifications
Dimensions
22.25 × 15.75 × 2 in
Reviews
Only logged in customers who have purchased this product may leave a review.
Related Recommended Products