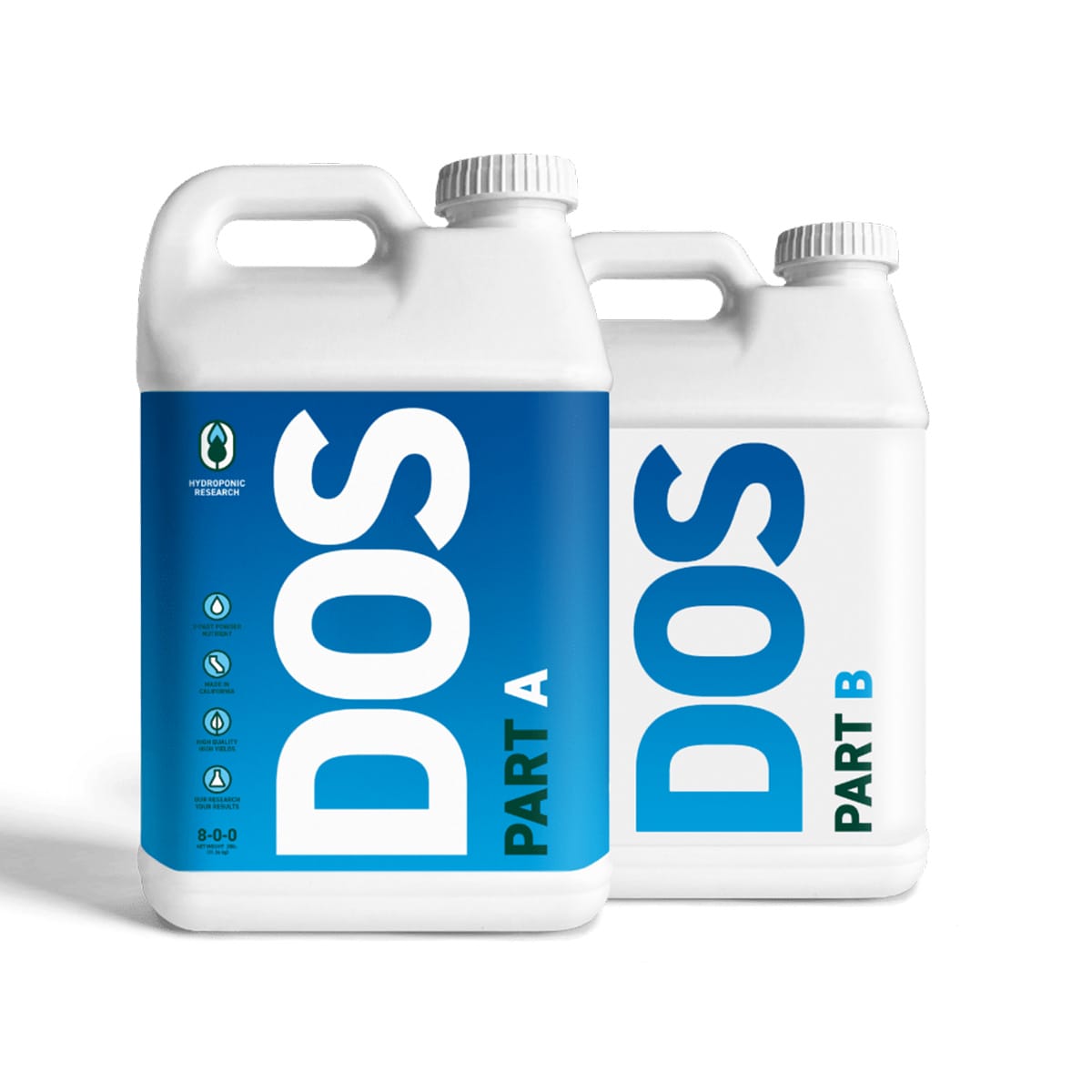 Hydroponic Research DOS Two-Part Concentrate Powder
One of the best two-part nutrients on the market, Hydroponic Research's DOS is a densely concentrated pH-stable formula ideal for fertigation systems. DOS makes growing easy with its simple 1:1 ratio, just combine 1 lb of powder with every 1 gallon of fresh water. It's ultra-flexible allowing for the introduction of other nutrient additives like Hydroponic Research's STAX or SHINE to take your grow to the next level. Get 30% off all Hydroponic Research products (Discount applied automatically at checkout)
Best for coco, soil, peat, and rockwool applications
Add 1 lb for every 1 gallon of fresh water
Guaranteed Analysis: Part A: 8-0-0 Part B: 0-3-10
Overview
Hydroponic Research DOS Two-Part Concentrate Powder
AS SIMPLE AS A+B.
Specially made for proportionate mixers and fertigation systems. The two-part powder maintains a consistent balance as a stock concentrate, so managing EC has never been easier.
More concentrated. A better price point. Already the cleanest, most stable nutrient, today's DOS makes every part of your grow even easier.
A 1:1 RATIO KEEPS IT SIMPLE. 1 LB of powder to 1 gallon of water. Easy to mix. Easy to manage.
THE STABLE SOLUTION. Precise PH control, compatible with all mediums.
AMPLIFY GROWTH. Add Stackswell (STAX) to stimulate vegetation. Add SHINE to enhance terpene production
FLEXIBLE FORMULA. Allows for maximum compatibility with all additives and supplements.
Guaranteed Analysis:
DOS Part A: 8-0-0
Total Nitrogen (N) ……………….8%

7% Nitrate Nitrogen
1% Ammoniacal Nitrogen

Calcium (Ca)……………………… 11%
Boron (B) ……………………… 0.02%
Iron (Fe)…………………………..0.3%
Manganese (Mn)………………0.3%

0.1% Chelated Manganese (Mn)

Molybdenum (Mo)……… 0.008%
DOS Part B: 0-3-10
Available Phosphate (P2O5)..3%
Soluble Potash (K2O)………. 10%
Magnesium (Mg) ……………… 3%

3% Water Soluble Magnesium (Mg)

Sulfur (S) ………………………… 6%
Reviews
Only logged in customers who have purchased this product may leave a review.
Related Recommended Products