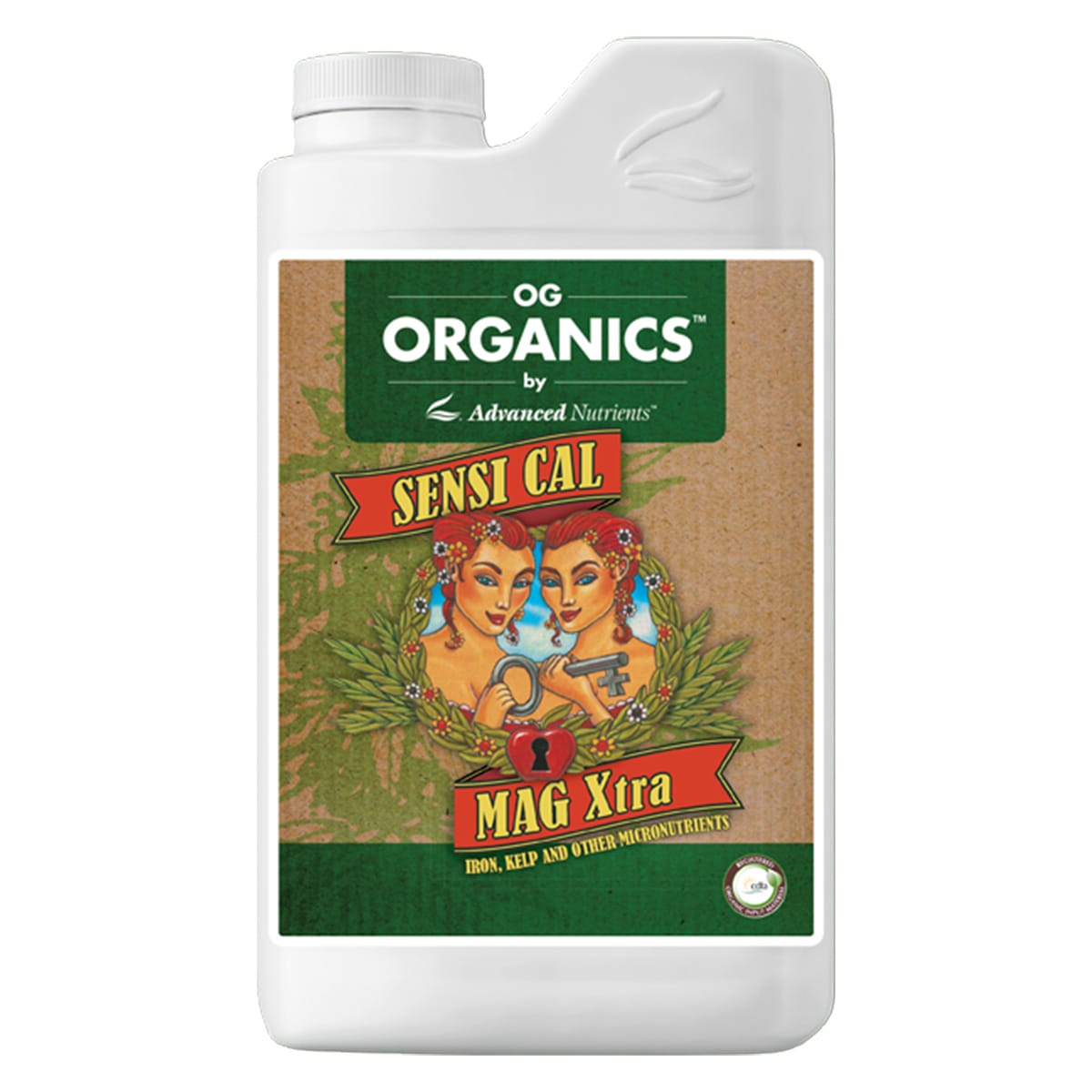 Sensi Cal Mg Xtra Organic
OG Organics Sensi Cal-Mag Xtra by Advanced Nutrients is an organic liquid supplement that gives plants an extra dose of calcium, magnesium, and iron to promote vigorous, healthy growth. Because not all base nutrients contain these vitamins, Sensi Cal-Mag Xtra gives you the ability to maximize your plant's vitamin and mineral intake. Unlike other organic nutrients, which are not immediately available to plants and take time to absorb fully, Sensi Cal-Mag Xtra makes these essential nutrients immediately available through an advanced chelation process. Reap the benefits of organic gardening without the wait!
OMRI Listed Registered CDFA Organic Input Material
Feeds your plants Calcium, Magnesium, and Iron
Overview
SENSI CAL-MAG XTRA ORGANIC®
Feed Your Crops the Extra Calcium, Magnesium, and Iron They Need If You Use a Non-Advanced Base Nutrient
The Ultimate Organic Solution to Stop Nutrient Deficiencies in Their Tracks! It's called OG Organics™ Sensi Cal-Mag Xtra, and it's the most comprehensive way to ensure your plants get all the nutrients they need to thrive.
When you add it to your growing system, your plants will benefit from…
Multiple chelated forms of calcium and magnesium (never worry about locking these critical micronutrients out of your garden again)
Chelated iron — an essential and often overlooked micronutrient your crops need to thrive… Plus chelated zinc
Kelp, an organic powerhouse that's chock-full of the amino acids, vitamins, and minerals your plants love
Imagine reaping all the benefits of a fully organic feeding program while never worrying about nutrient deficiencies slowing down your plants' growth. Because, through advanced chelation, your plants will absorb all the micronutrients they need to flourish. And you'll grow lush, green gardens with buds that swell from the earth's bountiful nutrition. It's why, for organic growers in 107 countries, using OG Organics Sensi Cal-Mag Xtra is the no-brainer for correcting nutrient deficiencies in their gardens.
Don't wait to discover what they know.
DIRECTIONS:
Reviews
Only logged in customers who have purchased this product may leave a review.
Related Recommended Products