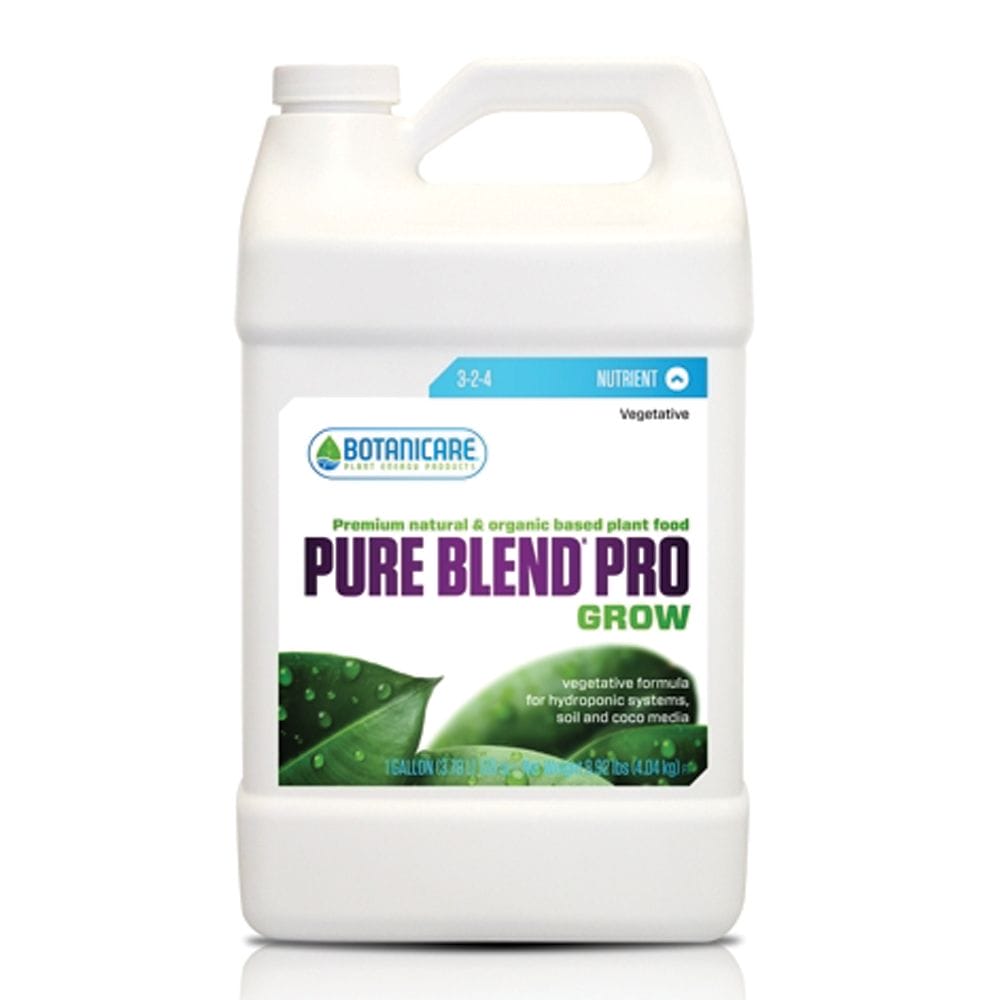 Botanicare Pure Blend Pro Grow
Pure Blend Pro Grow by Botanicare is a base nutrient designed specifically for the vegetative stage of growth. Pure Blend Pro Grow is a liquid formula rich in vital elements as well as secondary and trace minerals. Pure Blend Pro Grow promotes busier, greener plants.
(3-2-4)
Encourages busier, vigorous growing plants
Specifically blended for the vegetative stage
Feeds your plants with vital primary and secondary elements
Overview
The Pure Blend Pro series includes natural and organic-based, easy to use, one-part, base nutrients. Each water soluble formula has been carefully crafted to increase flavors, aromas and terpenes in your crops.
Pure Blend Pro includes a blend of natural minerals and organic extracts plus the essential macro and micro nutrients your plants need for vigorous growth, and top-shelf bud and flower formation.
Fishmeal, composted seabird guano, kelp, humic acid and many more essential ingredients are ideal for enhancing flavors and aromas in your high value crop while their soluble form encourages fast nutrient uptake and increased growth rates.
PURE BLEND® PRO GROW
A premium, vegetative, base nutrient with sources of essential major and secondary elements plus trace minerals from the land and sea. These ingredients promote vigorous, lush green vegetation. Use Grow throughout the vegetative cycle.
GUARANTEED ANALYSIS
Grow: Nitrogen 3.0%, Phosphate 2.0%, Potash 4.0%, Ca 1.0%, Mg 0.5%
USAGE APPLICATION
Recommended application rates are listed on the product labels, pre-developed recipes, and nutrient calculator at botanicare.com. If growing in nutrient fortified potting soil or using supplements, reduce application rate by 25%. If using reverse osmosis water and or in coco coir, it's recommended to add 5 ml of Cal-Mag Plus per gallon of water. Use with every watering.
Use with Hydroplex, Cal-Mag Plus, Rhizo Blast, Sweet, Hydroguard, and Liquid Karma.
Reviews
Only logged in customers who have purchased this product may leave a review.
Related Recommended Products