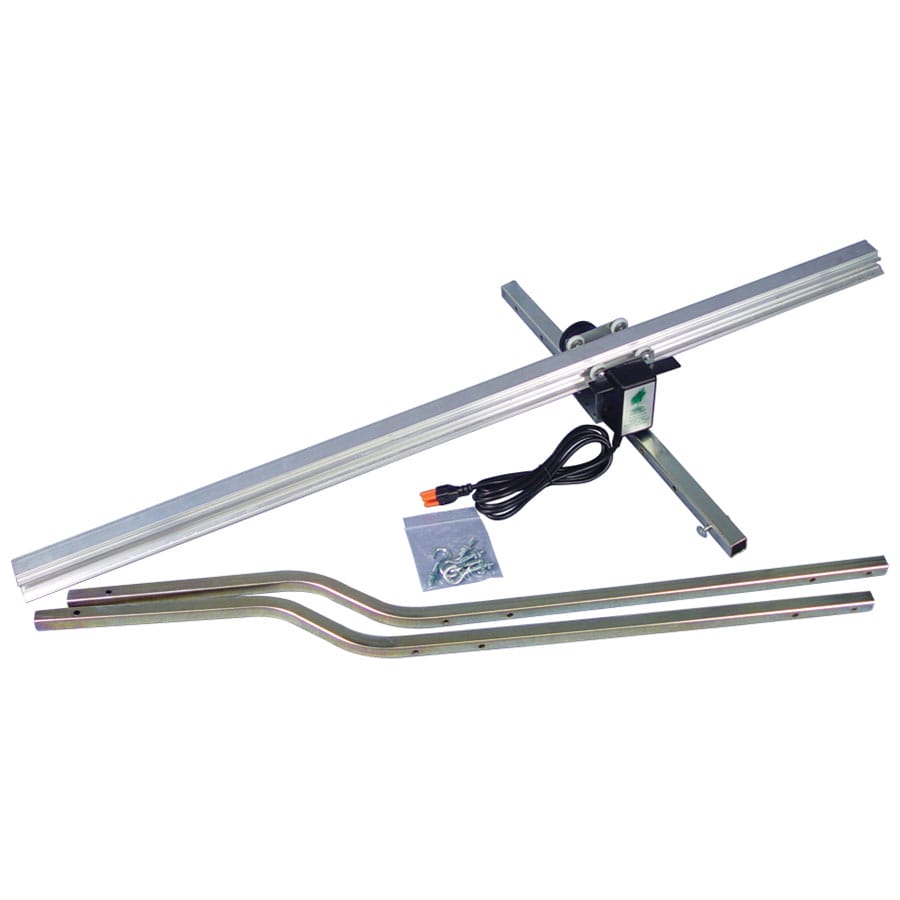 Light Rail 5 Complete 4 RPM Kit
The LightRail 5 Complete 4 RPM Kit can move multiple crossbars with each crossbar allowing indoor grow lights to travel side by side, and this indoor growers kit has a zero to sixty-second adjustable time delay for pausing the grow lamp at the end of each run. The time delay helps promote even indoor plant growth from end to end and allows for equal grow light-time for the entire run. The LightRail 5.0 Kit comes with a LightRail 5.0 Drive Motor, one crossbar, instructions, mounting hardware, and a 2-section 8' Rail, so it's long enough and ready for an extra Add-A-Bar Kit to purchase as a second crossbar. Grow equipment, especially indoor plant lights, should always be maximized and LightRail is the most effective way to get the most out of your indoor grow lights and grow equipment.
Out of stock
Overview
Light Rail 5 Complete 4 RPM Kit
Note: With LightRail 5.0, perfect balance is key and vent tubing can play havoc with that. We recommend that if you do have vented hoods, you use LightRail 3.5 or 4.0.
Relevant information about indoor grow lights with light movers… With indoor or greenhouse lighting,, when stationary, only shines light on the parts of leaves that are directly beneath it, which can cause limited growth and even damage to the plant similar to sunburn.
LightRail light movers solve this problem by moving the indoor grow lights over the tops of plants, so that the leaves get light at different angles, activating photosynthesis on parts of the plant that would not normally receive much light with a stationary indoor gardening system. With stationary indoor grow lights, light energy can also be lost because it cannot diversify itself in order to allow your plant to absorb it at the optimum levels. LightRail grow equipment kits shine the correct intensity of light on the leaves for 40% of the photoperiod. This allows the plant to reach the optimum Leaf Area Index, the most important factor in increasing indoor gardening yield. Also, by moving your indoor grow light, you can now safely get your lamp kits closer to your plants for a more efficient use of the wattage available. LightRail is the single best way to maximize your indoor grow setup.
Solidly made in the USA since 1986, LightRail 5.0, the scalable DIY light mover for any indoor grow space, is the light mover of choice with an instrument-grade drive motor that runs on only 5.5 watts, digital control circuitry, heavy-duty ball bearing carrier wheels and a self-clutch drive design with automatic traction control. Manufactured by Gualala Robotics, LightRail has important electrical certifications (C CSA US or CE) and flammability ratings (UL 5 VB) and is RoHS compliant. LightRail 5.0 has a limited lifetime manufacturer warranty, and runs at a safe 28-42 degrees C with a flame retardant electrical enclosure, as it should be, while imitator light movers run as hot as 107 C (170 F) and their electrical enclosures are likely made of flammable plastic.
Without quality, there is no value and if it does not say Gualala Robotics, it is not a LightRail. LightRail, the scalable DIY light mover for any grow space, should be considered an important part of your indoor grow kits, and an integral part of any indoor grow lights. Grow equipment, especially indoor plant light, should always be maximized and LightRail is the most effective way to get the most out of your indoor plant light and grow light kits.
Reviews
Only logged in customers who have purchased this product may leave a review.
Related Recommended Products