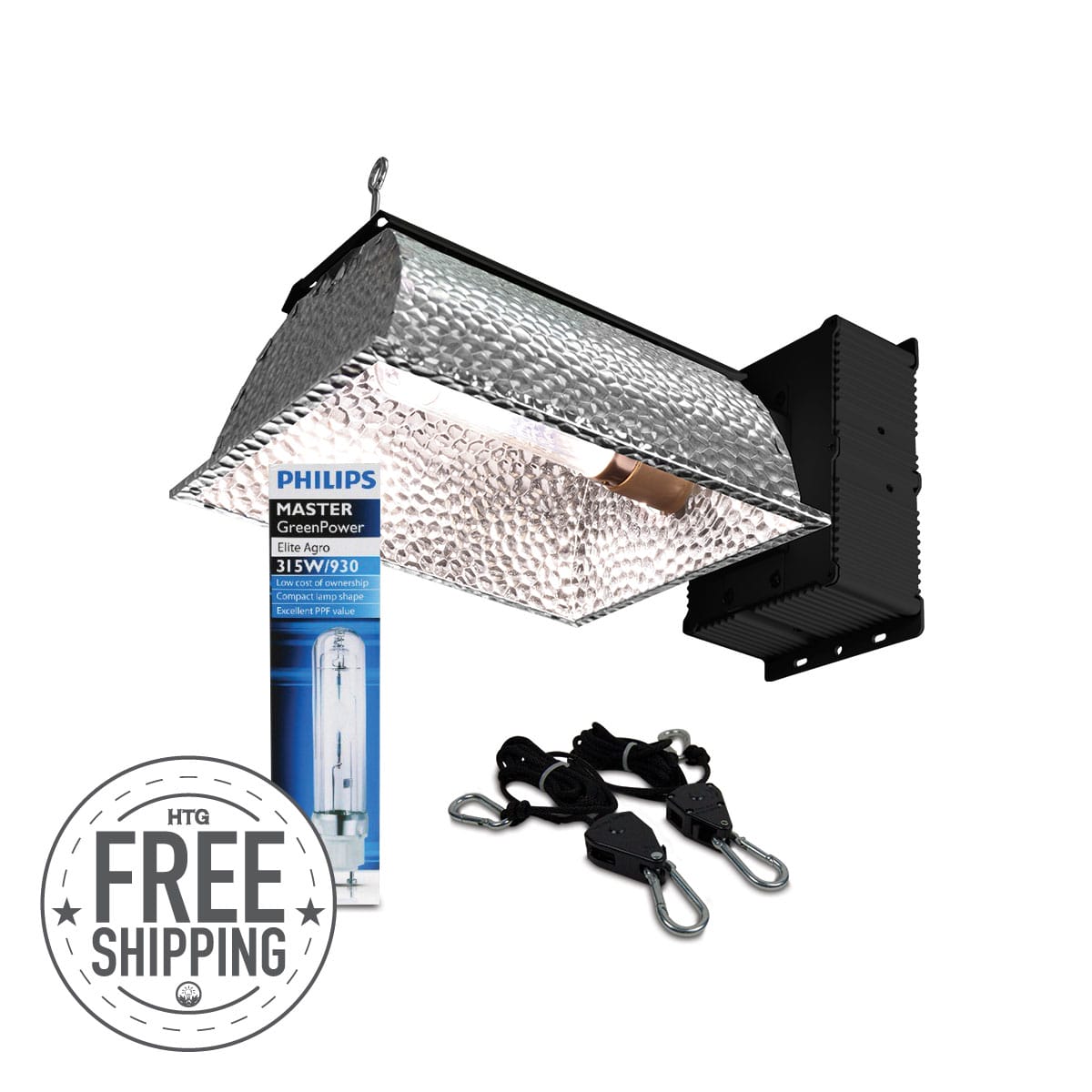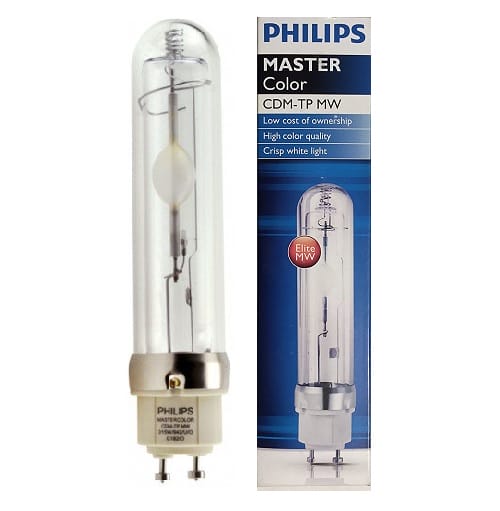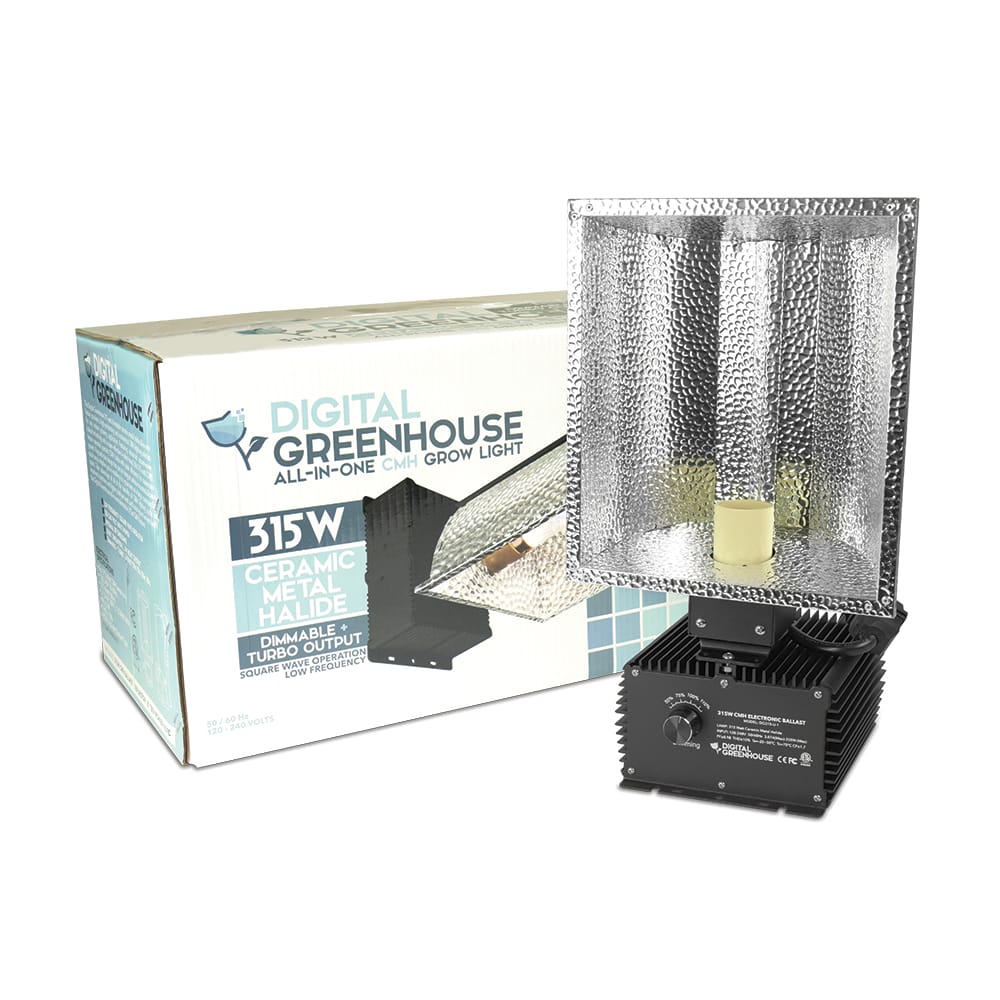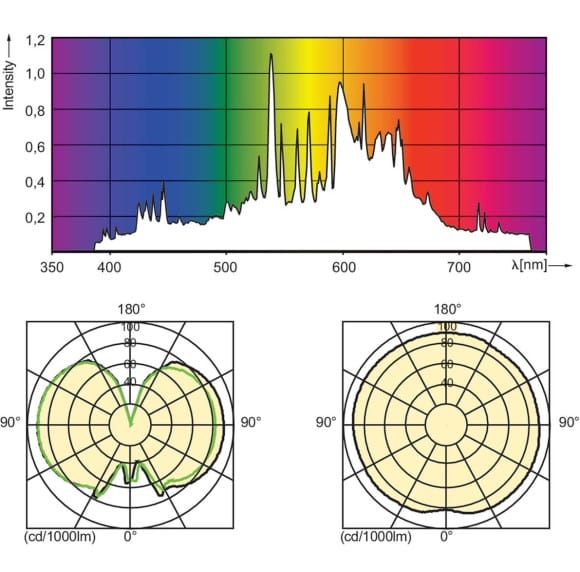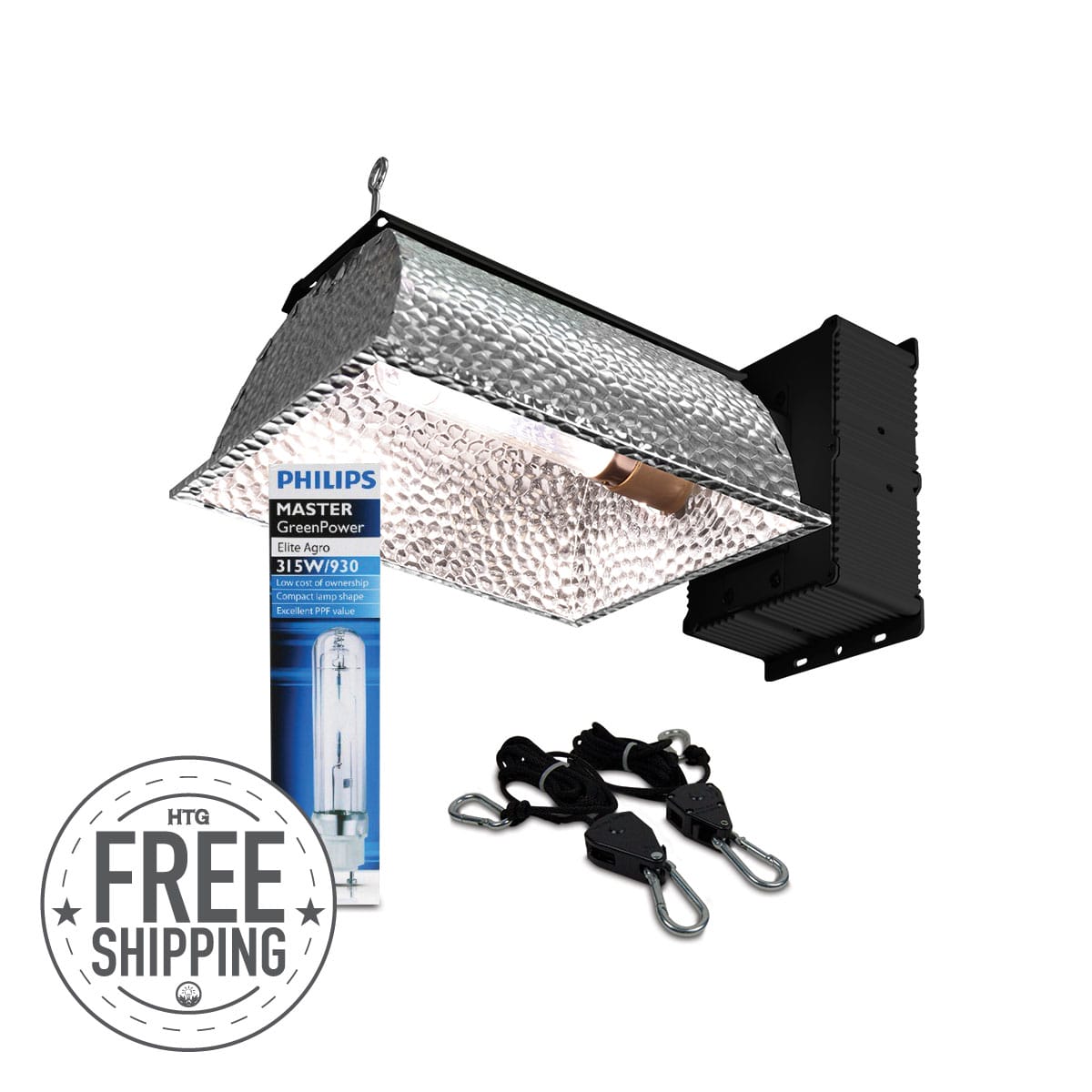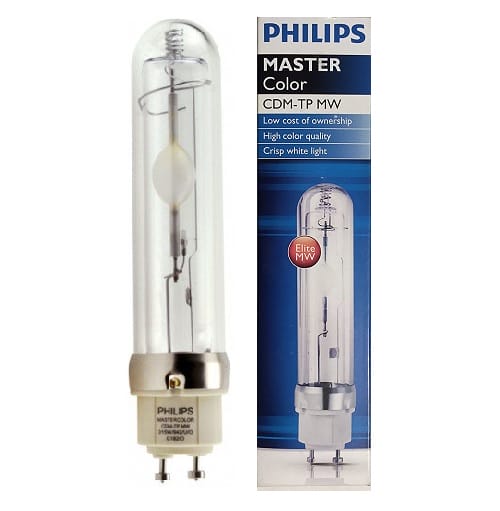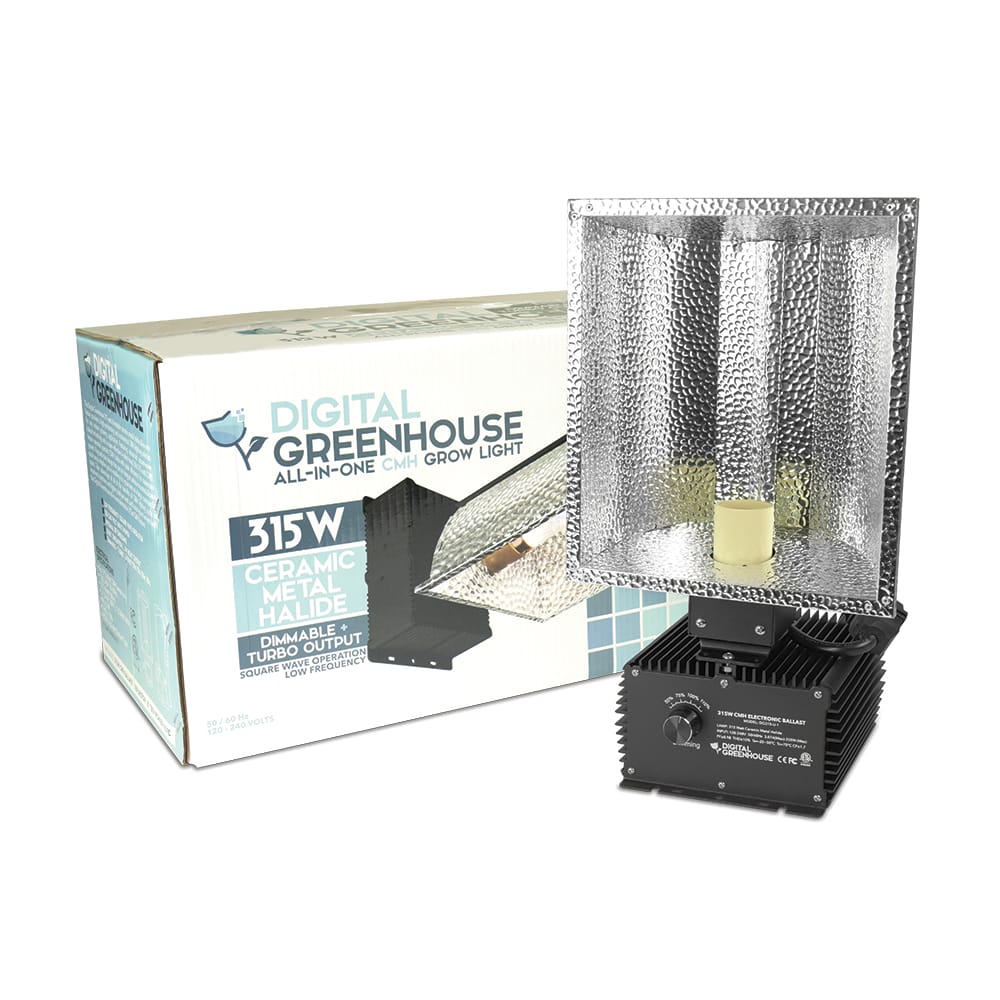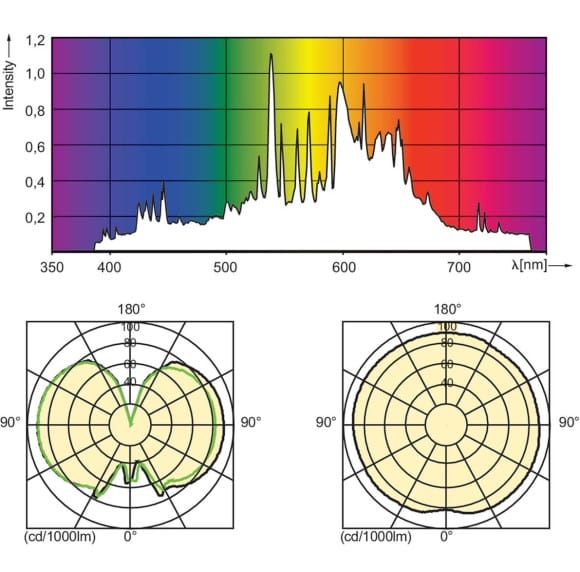 Digital Greenhouse 315W CMH W/ Philips 4200K Bulb
The Digital Greenhouse Ceramic Metal Halide 315 watt fixture is a top-quality, cutting-edge CMH grow light. The ballast is a DIMMABLE Advanced High-Efficiency Low Frequency-Square Wave ballast - optimized for full output of all 315 watt CMH bulbs. The Digital Greenhouse CMH 315 watt ballast offers exclusive dimmable technology that allows growers to operate the system at different lamp outputs including 50%, 75%, 100% or 110% turbo output!
The system includes an ultra-reflective professional grade reflector system.
Additionally, the Digital Greenhouse ballast is ETL listed, which means it has been fully tested by the certifying agency for safety and reliability.
Just plug it in and grow, the Digital Greenhouse All-in-one system is fully assembled.
In stock
Overview
CMH 315w Turbo Philips 4200K Lamp Complete Grow Light 120-240v
** Get it Now with Fast & FREE Shipping! **
The Digital Greenhouse CMH 315W Grow Light provides high-performance CMH lighting for indoor gardening with the flexibility of dimmable control. High-efficiency/low-frequency square wave ballast technology optimizes output for any PGZ18 315 watt CMH bulb. Exclusive dimmable technology allows the Digital Greenhouse CMH 315 watt system to run lamps at different outputs; 50%, 75%, 100% or 110% "Turbo output"! Features integrated hood and an ETL listed ballast for professional-grade performance. Grow with confidence, grow with Digital Greenhouse – a USA brand and grow light technology leader since 2005!
PACKAGE INCLUDES:
(1) Digital Greenhouse 315w integrated fixture
(1) Philips MasterColor 4200K Bulb
(1) Pair of heavy duty 1/8″ rope hangers with metal hooks
(1) 120V power cord with grounded plug (NEMA 5-15)
*Offer valid online only. Price at HTG Supply retail locations may vary.
Philips 315W MasterColor 4200K Lamp:
The Philips MasterColor ceramic metal halide (CMH) 4200K bulb produces a growth-targeted crisp white light with high CRI, excellent PPF, and plant-beneficial ultraviolet (UV). With an improved horticultural spectrum and outstanding efficiency, the Philips MasterColor provides better growth and higher quality yields.
– Model: GreenPower CDM-TP 315W/T12/U/O NA
– Color Temperature: 4200K
– Lumens: 33,000
– Rated life: 20,000 hrs.
System Information
ELECTRICAL SPECS:
Input Voltage: 120-240v, 50/60hz
Amperage: 3.07@120v, 1.53@240v
Max Watts: 355 (110% setting)
Power Factor: 98%+
THD: < 10% (ultra-low THD)
Socket type: PGZ18, 4K socket (standard 315w CMH lamps)
FEATURES:
Measures (max): 17.875″L x 9.875″W x 10″H
Dimmable Settings: 50%, 75%, 100%, 110%
Multivolt – operates at 120-240v
Includes 10′ power cord with NEMA 5-15 grounded plug
For use with 315w CMH bulbs only (not included)
ETL listed for safety and reliability
1/8″ ROPE RATCHETS:
– Raise and lower light fixture
– Locking mechanism
– 1/8″ rope that supports up to 75 lbs. ea. (150 lbs total)
– High-quality stainless steel latches
– Perfect for hanging reflectors, light fixtures, carbon filters and ventilation equipment
Reviews
Only logged in customers who have purchased this product may leave a review.
Related Recommended Products