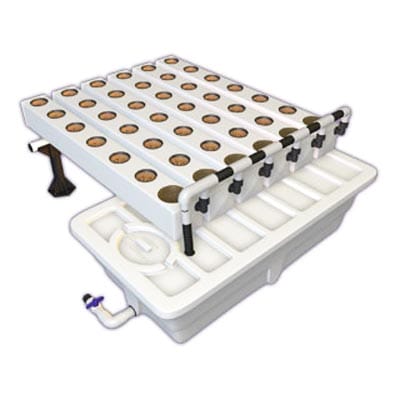 General Hydroponics AeroFlo2 36 Site
General Hydroponics' AeroFlo2 is a super-oxygenating hydroponic system that delivers the optimum amount of oxygen, water, and nutrients to your plant's roots. The AeroFlo2 36 Site has 36 slots to cultivate plants indoors using a grow light. In addition to the 36 sites, this system comes with a 40 gallon Panda reservoir.
Dimensions: 4'2" L x 6'10" W x 2' H footprint
36 sites for plants
Out of stock
Overview
Legendary growth and yields are hallmarks of this high performance line of systems.
A variety of sizes allows for a custom AeroFlo system that fits your needs The AeroFlo super-oxygenates the nutrient solution to optimally deliver oxygen, water, and nutrients to your plant's roots. This system creates stronger, more resilient plants for increased yields. Perfect for flowers, fruits and vegetables up to 3 or 4 feet tall. Bring your plants to harvest earlier and maximize the productivity of your grow space with the AeroFlo. With four different models to choose from, there is an AeroFlo unit for every requirement.
AF36
36 Site Aeroponics System
4'2"L X 6'10"W X 2'H footprint
The AeroFlo 36 system offers 36 plant sites in a footprint designed specifically for indoor cultivation under a grow light. Grow flowers, fruits and vegetables, up to four feet tall. The AeroFlow 36 is matched with a generous 40 gallon Panda reservoir.
This system includes:
• 40 gallon Panda reservoir
• Six 4 ft. grow chambers
• WaterPOWER 120 pump
• Injection manifold
• Support structure
• 3 inch Grow Cups
• Clay Pebbles
• 3-part Flora Kit
Reviews
Only logged in customers who have purchased this product may leave a review.
Related Recommended Products