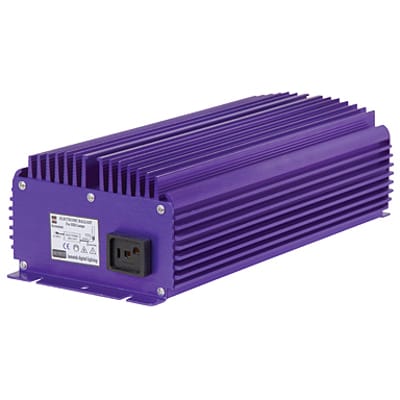 Lumatek 1000w Digital Ballast
This 1000w Lumatek Digital Ballast is capable of operating at either 600, 750, or 1000 watts and features a dual-voltage design that can accomodate both 120 and 240 volts. Lumatek's intelligent ballast design automatically senses the type of grow light bulb you are using and will operate it to ANSI specifications. Simply insert a metal halide or high pressure sodium lamp, turn the switch to specified bulb wattage, and presto! The Lumatek ballast will automatically know the bulb type and operate your lamp. Use the Lumatek's Super Lumens feature to boost lamp output up to 10% at the flip of a switch!
Out of stock
Overview
Show Your Indoor Garden You're Serious With This Dual Voltage 1000W Lumatek Ballast!
This ballast features an internal resin coating to protect components for long life, and an external breaker system to protect against power surges. Dimmable to 50 percent, the Lumatek Dial-A-Watt digital ballast is the ideal choice for any serious grower's indoor garden. Comes standard with a 120-volt power cord (240-volt cord sold separately).
Now dimmable with SUPER LUMENS switch! The NEW 1000w Lumatek Ballast features Dial-A-Watt technology that gives four distinct advantages.
Lumatek Ballast SUPER LUMENS Advantages:
Multi-Wattage – This Lumatek Ballast can power 3 distinct wattages (600w, 750w, & 1000w) of HID lamps (HPS or MH).
Dimmable – Dimming can be a great way to deal with heat issues in your garden. When dimming a lamp, it is important to remember that you can only go down in wattage. For example, a 1000w lamp can be dimmed to 600w, but you cannot increase the power of a 600w lamp to a 1000w.
Super Lumens – Up to 10% more light at the crank of a dial. The Super Lumens feature can only be used with the highest rated wattage lamp for your Lumatek ballast.
Go Green – With each setting on your Dial-A-Watt Ballast, both the input and output power change. This is a great feature if you want to save energy when your plants are young and you need less light (uses 25% less energy at the 750w setting than it would at 1000w).
Unique Features of this Lumatek Ballast:
• Dimmable with SUPER LUMENS SWITCH!
• Dual voltage – 120/ 240 volt
• Completely silent (no humming, no vibration)
• Small compact design – under 16 lbs.
Comes standard with a 120v power cord. Purchase a 240v power cord (sold separately) if using a 240 volt power supply.
Related Recommended Products