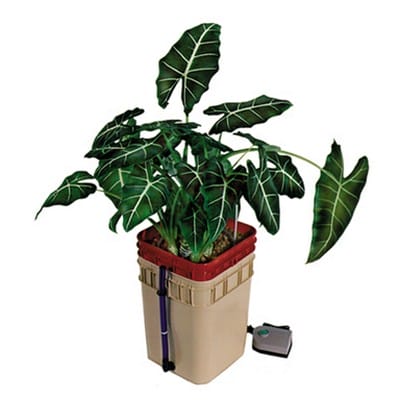 General Hydroponics WaterFarm Single Site
General Hydroponics' WaterFarm Single Site is a specially designed, stand-alone complete hydroponic system. The WaterFarm single site can be used for large crops, perennials, and mother plants. Because of the shape and size, this system is easy to move and energy efficient without losing the quality you get with a larger system.
Dimensions: 12" L x 12" W x 18" H
Hydroponic system perfect for smaller spaces
Stand-alone system for single, larger crops, perennials, and mother plants
Quality of a large system in a small package
Out of stock
Overview
Classic bucket system with limitless possibilities. Drip Hydroponic System.
Our best-selling hydroponic module, the WaterFarm is built to assure a long service life. The unique square design allows growers to closely pack modules together to create large, high-density installations. The WaterFarm will grow small, medium, and large plants. It offers all the features of larger systems at a lower cost without sacrificing quality or performance
WaterFarm Individual
Classic "plug n play" single bucket system
The complete WaterFarm is designed to be a stand-alone system. It's reliable and simple, perfect for large crops, perennials, and mother plants. The system is versatile, because it can be moved easily.Move it from room to room, or from indoors to outdoors.
Dimension: 12″ L x 12″ W x 18″ H
This system includes:
• 4-gallon reservoir
• 2-gallon growing chamber
• Pumping column
• Drip ring
• Drain level tube
• 1/2″ grommet
• Drain level tube
• Single outlet air pump
• 3-part Flora Kit
Reviews
Only logged in customers who have purchased this product may leave a review.
Related Recommended Products