#1 – Simple Soil pH Test
Testing pH is an important part of growing indoors for both soil and hydroponic growing. If the pH of your soil is too low or too high your plants may be unable to absorb the nutrients they need for proper growth and development. Grow mediums and certain soil amendments can change the pH of your soil over time, so it's a good idea to test your pH regularly even if you test your water, and especially if any problems like yellowing start to appear.
Before we get started, it's important to know that good soil pH is between 5.5 – 6.5 (slightly acidic) in general, with the optimal range being 5.8 – 6.2. Also note: the pH of your water can affect the soil pH and adjustment needs. The water or nutrient solution you're giving your plants should also be somewhere between this range. Test your water to start, and adjust up or down based on the pH of your soil.
Testing pH for hydroponics is fairly straightforward, but how do you test soil pH accurately? If you're not ready to invest in a high end soil pH meter, the good news is, you can test pH easily with inexpensive pH meters or even pH strips by making a soil slurry.
How to Test Soil pH with a Soil Slurry:
In a small container, mix 1 part soil (just a small scoop will do) with 2 parts water.
Stir vigorously until the soil and water are well mixed.
Allow it to sit for approximately 15 minutes
Test the mixture with your pH meter or pH paper to find your soil's pH
If adjustments are needed, add pH Up or pH down to your water or nutrient solution to correct the issue. For high pH, adjust the pH a few points lower, i.e. 5.5. For low pH adjust the water a few points higher, i.e. 6.5. Re-test before the following watering.
Watch a demonstration by PhD Botanist Dr. ER Myers
HTG Supply has everything you need to make sure your soil pH is correct including adjusters and meters. Grab these supplies to keep your plants growing healthy and green or shop pH Meters & Testers for more options!
$9.72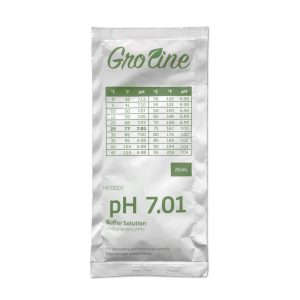 $1.04
$9.72
Sale!
$59.00
#2 – Set & Forget Seed Starting
There are numerous hacks and methods for starting seeds, from the old wet paper towel trick to repurposing egg cartons. Those methods do work, but there's no easier or better way to start seeds than with a floating seed starter tray. These trays feature a foam board that with inserts for seed starter plugs. The tray floats on top while the plugs soak in the moisture from below. Just add water to the tray periodically, and the plugs will hold the perfect air water ratio for sprouting success. Add a heat mat and humidity dome, and you've created the perfect germination environment!
Bonus: These starters work awesome for cloning as well!
Check out our article Seeds of Success for a full guide to germination and seedling growth!
Get better seed germination and seedling growth with a floating seed starter tray or seed starter kit. Check out the popular Seed Station complete seed starting kit including T5 grow light and stand!
$6.95
Sale!
$29.95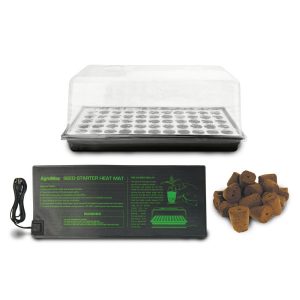 $54.35
$129.95
#3 – Pruning… With Air
The Problem…
A problem growers run into is root bound plants, which can easily happen with plastic nursery pots. Root binding occurs when the roots run out of room to grow and circle around the inside of the pot wall. This can lead to issues including root death and disease, stunted growth or worse yet, the demise of your plant.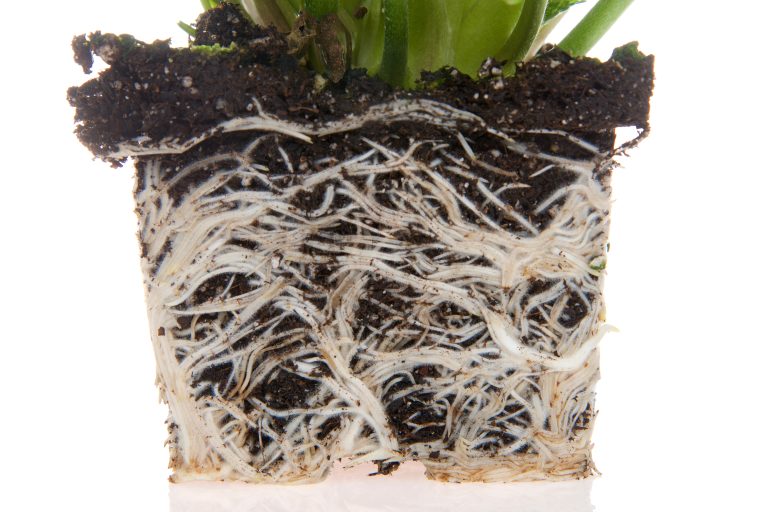 The Solution…
The solution is called air-pruning, a passive technique that relies on the use of breathable pots instead of plastic or other solid materials. As roots grow and reach the pot wall, they will dry up on the end instead of circling inside the container. This not only prevents root binding, but promotes branching in the inner root mass that will increase the feeding capacity and improve the growth of your plants!
Try these air pruning pots to prevent your plant from becoming root bound. HTG Supply offers a variety of air pruning pot types including cheap fabric pots, square fabric pots, reusable Oxy Pots, and even special pots for starts that will be transplanted. Visit Air Pruning Pots to shop all brands and sizes!
$2.35
$3.45
$3.99
$3.50
#4 – Feeding Your Soil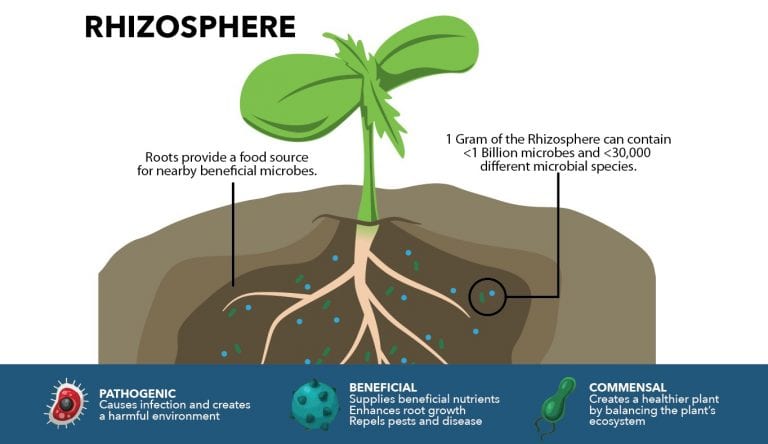 Feeding your plants is one of the trickier parts of growing indoors so it's easy to understand how 'feeding soil' can be easily overlooked. When we talk about feeding soil, we're referring to the beneficial microorganisms within it rather than the organic matter itself.
Beneficial micro's are found in many premium potting soils and nutrient additives. They help to keep roots healthy increase nutrient uptake of plants, and balance the rhizosphere or root zone of your plants. If your soil or nutrients don't have them, you're already a step behind. The good thing is you can add them cheaply with an all-purpose compost tea like Stump Tea.
The point of feeding the soil though, is to maintain the production of the beneficial micro's. So what do they eat? It turns out that they have a real sweet tooth for good old molasses. You could probably grab a bottle out of granny's cupboard and see some sort of benefit. The better option would be to use 100% soluble form made for the garden like Stump Tea Sweetener that's guaranteed to nourish your little helpers with everything they need to keep working hard for your plants.
If you're not already using beneficial micro's, add them easily with Stump Tea all-purpose compost tea. Keep your soil microbes healthy and productive with Stump Tea Veg Boost and Stump Tea Sweetener. Maximize the effectiveness of using your compost tea with the Stump Tea Brew Kit!
$14.95
$14.95 – $24.95
$14.95 – $39.95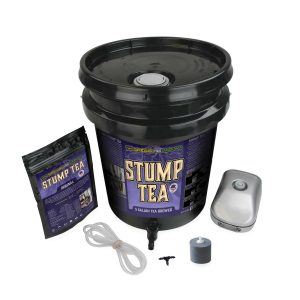 $44.95
#5 – Chem-Free Pest Control
Pests are an inevitability when it comes to indoor gardening. No matter how hard we try, we're bound to run into a bugger eventually so it's best to be prepared ahead of time.
When it comes to pest control, many indoor growers first thought might be of harsh chemicals that they would rather not use in their home, much less put on their prized plants. The truth is though, that the days of using harsh chemical pesticides in the indoor garden are largely over. Almost all indoor growing pesticides these days are bio or plant based, with many organic-certified pest control options.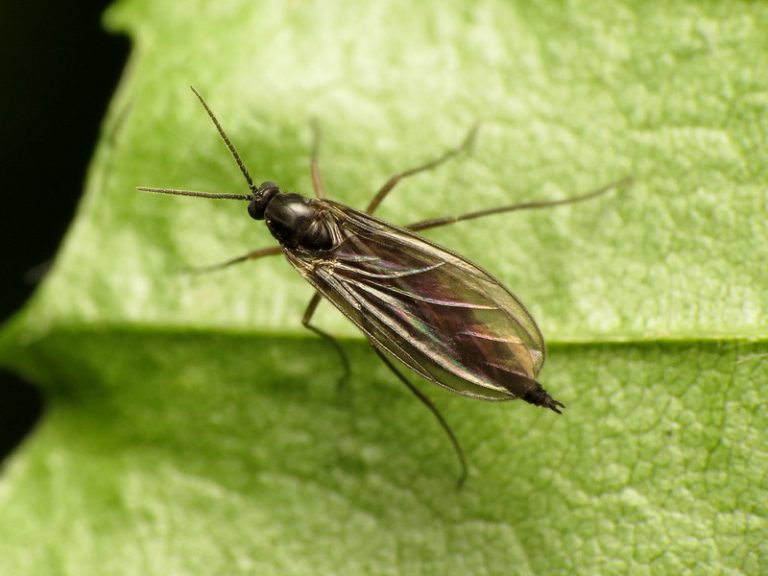 The dreaded fungus gnat.
If working with concentrates and sprays still sounds off-putting for you, the good news is that there are several non-chemical pest control options that are still highly effective. Sticky traps work great for any common flying pest in the indoor garden, and diatomaceous earth, helps to keep numerous pests from entering or breeding in your grow medium. Use these products as preventative measures to prevent infestations before they start!
Sticky trap in action taking out gnats.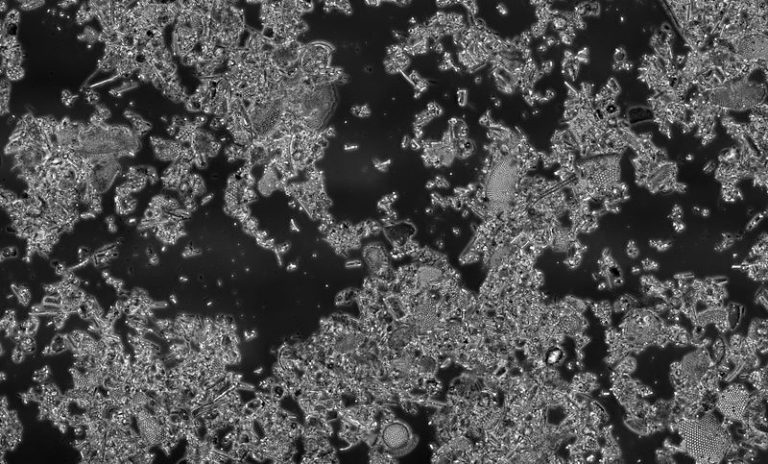 Closeup of diatomaceous earth made up of the shells of microorganisms.
HTG Supply offers a wide variety of organic and non-chemical pest control supplies for the indoor garden. If you're dealing with a specific type of pest and want to know what the best option is, give us a call at 1-866-710-GROW(4769) and we'll be glad to help!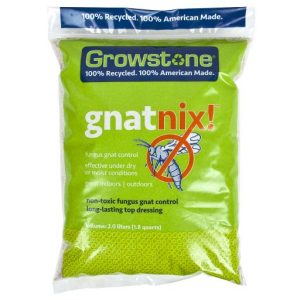 $5.50 – $12.00
Sale!
$7.79
$8.95
Sale!
$18.99
#6 – Plant Training for Better Yields
Plant training involves manipulating or stressing a plant to promote desirable growth traits such as bushiness, even canopy spread and increased flowering sites. There are many plant training techniques that produce different results. If you've experienced tall lanky plants with little yield in the lower portions, it's worth a try!
A simple plant training method any grower could try is bending. The bending technique helps to distribute growth hormones and light to the lower portions of the plant to produce bushier growth and increased flowering sites. Bending is also a low-stress training method, meaning your plant will need very little – if any – recovery time to continue growth afterwards. This is opposed to a high-stress method such as topping (cutting off the meristem) which would done to achieve a similar result. Plants may need a few days to recover before continuing to grow with high-stress methods such as topping so bending is a good alternative.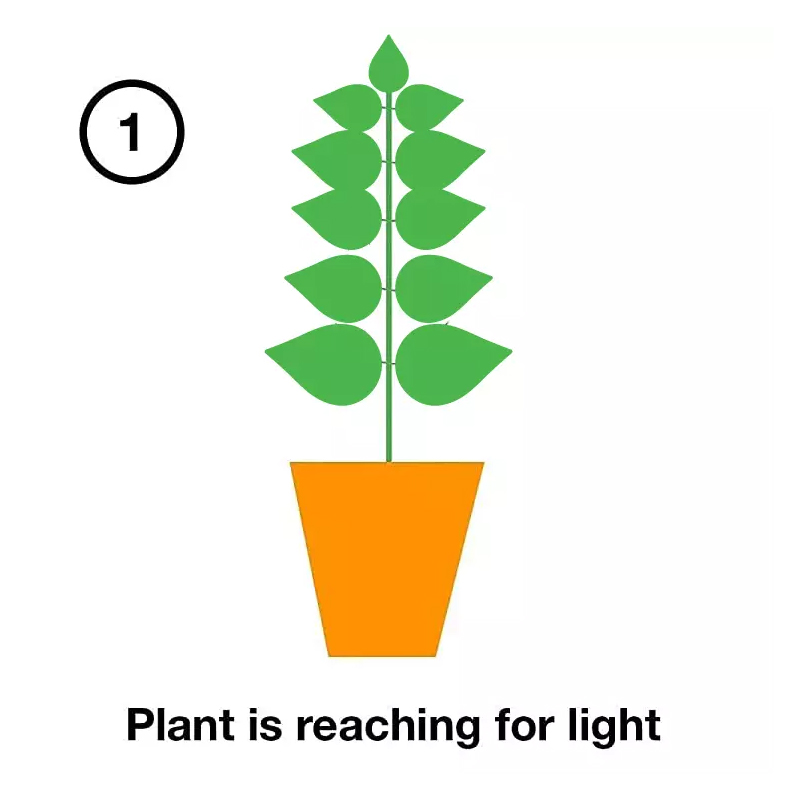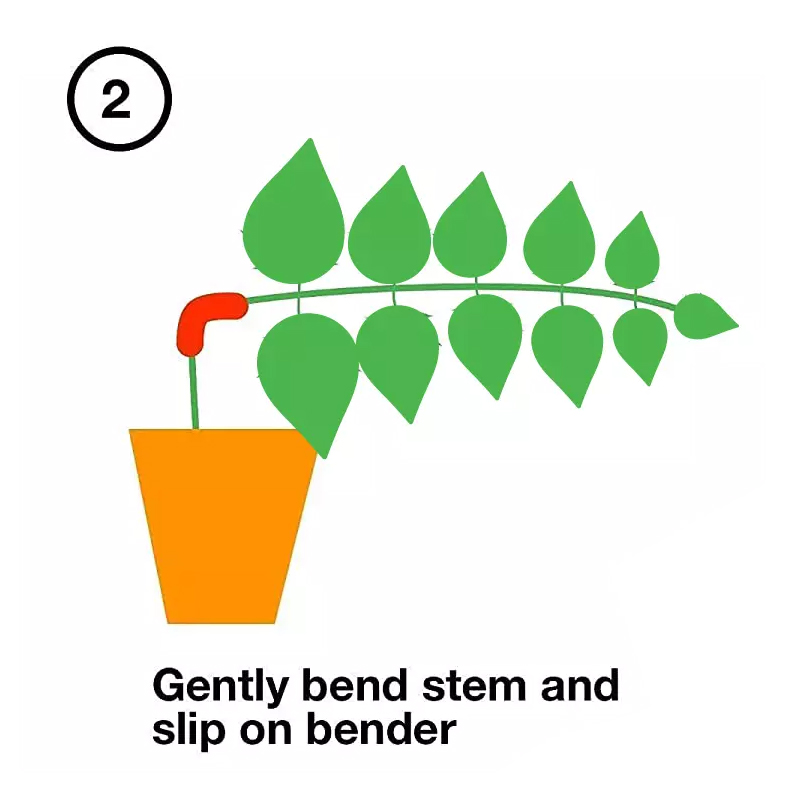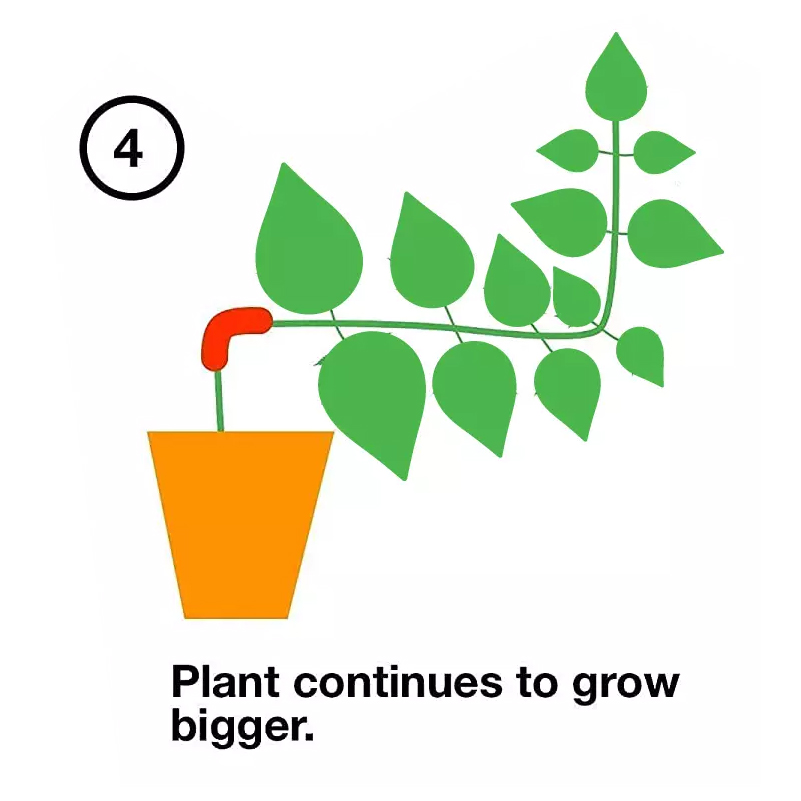 Bending can be done easily with plant ties, plant clips, or special plant benders. A good first bend would be about 90°. It's best not to bend too far to avoid kinking the stem. One of best and easiest ways to do it is to use foam ties like so:
Snip a length of tie about 12" long
Form a small hook at both ends of the tie
Slide one hook over the stock two or three nodes or inches from the top
Gently bend the top down about 90° – if you start to feel too much resistance back up a little and start the bend there
With the bend formed, slide the other hook under a sturdy node on the main stem
Check out this demonstration by PhD Botanist Dr. ER Myers
We carry a variety of ties and clips that can be used for plant training. Try using HTG Super Foam Ties for bending your plants as seen in the video or even regular ties. We also carry special plastic benders that clip right to plant stalks.
Sale!
$0.79
$2.50
$2.75
Sale!
$0.69
#7 – GROW WITH HTG SUPPLY!
We're guessing it's pretty obvious by now that we sell indoor gardening supplies (wink-wink), but that's not all we do at HTG Supply. What sets us apart is that we're here to help our growers succeed! Our customer service approach is founded on real-life indoor gardening experience and growing knowledge in addition to providing a 5-star shopping experience.
We are fellow growers that can help you plan your garden, recommend the best equipment options for your needs, and even help you troubleshoot and solve gardening problems. Any type of plants, any growing method, any garden size – we're here to help you grow your best! We even offer in-store grow classes at our many locations – follow your store for details!
Sharing knowledge is one of the things we do best, but there are plenty of other benefits to growing with HTG Supply including our huge selection of top industry brands at everyday low pricing, plus in-store loyalty rewards and Veteran's Discount programs to help you save more!
EVERYDAY LOW PRICING
BEST SELECTION
LOYALTY REWARDS
VETERAN'S DISCOUNT
COMMERCIAL SERVICES
We hope you found these tips helpful! Ok, so maybe our final hack is a bit bias, but how could recommending a grow shop you can count on to help you grow your best be bad advice? If you're looking for more growing knowledge, be sure to check out our Information Center for more articles and videos to help you grow. Visit your local HTG Supply or give us a call at 1-866-710-GROW(4769) and we'll glad to help with all of your growing questions!
Find Your Local HTG Supply
HTG Supply has the best selection of the supplies you need for your home or commercial grow – at prices you will love! Our shops are fully stocked with a huge inventory of the best gear for hydroponic and soil growing, featuring top brands like FoxFarm, AgroMax, Advanced Nutrients, Athena, CANNA, and all of the rest. Visit your local HTG Supply store today, and let our team of cultivation experts assist you with the knowledge and equipment you need to succeed. Just click any pin on the map here to get store details or directions.
Join the HTG Supply Loyalty Program and earn rewards points you can spend on anything!
You grow it – we know it. Just starting out? We offer free grow classes to help you succeed! Visit your store page for details.
Save on all of your growing needs with NEW Everyday Low Pricing on top cultivation brands at your HTG Supply!
Other Learn About Propagation articles